Hey, everyone. Thank you so much for sending all of your games to me. I've genuinely had the time of my life going through playing, rating, and drawing a bad fan art for each and every game in this topic. I rated over 240 games and drew over 240 bits of art for you folks, and I would've gladly done even more. Seeing you all be so happy and laughing at the art made every single minute of it worth it.
I genuinely just can't find words to express how much I've loved doing this for you all, and brightening your days. Thanks for sticking with me, and thanks to all of you that checked out my game from this. I never asked you to, and nor did I expect you to.
You all gave me a purpose for this past week. You gave me a purpose after a year that's been filling my head with depression and social anxiety. The positivity you've shown me has been wonderful. I had to give as much of it back as I could.
But now it's all over, so just... stay safe and take care of yourselves, alright? And, after you're doing that...
Keep making games!
Edit 7: I'm finally caught up with the influx of games! If you want to see a few games from the jam I think people should give a look (and why!), check out my collection here!: https://itch.io/c/591733/jordan-hans-gmtk-2019-interesting-picks
Exactly what it says on the tin. There are a heck of a lot of games in this jam, and I'm indecisive.

*Windows/web only, I'm afraid; I don't have a mac and games tend to be incompatible with my phone.
For an example, this is my game:
https://thatjdude.itch.io/flight-of-the-electrodud
And this is "fan art" of my game: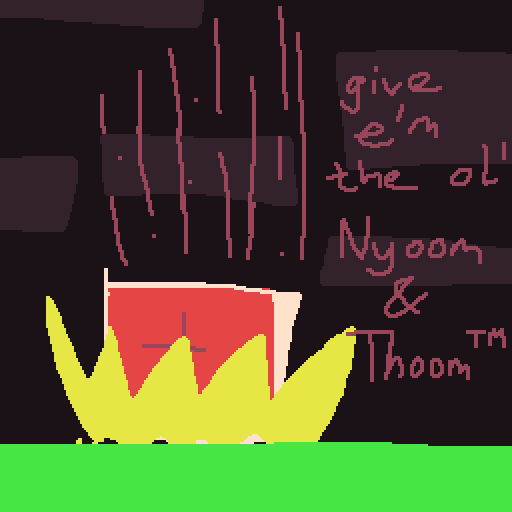 A poorly drawn image of Flight Of The Electrodud, showing a red square zooming towards a green floor

So if you want your game turned into a masterwork of art, post it here.
Edit: THIS POPPED OFF REAL QUICK! I will get around to everyone, I promise, but art takes time (except mine doesn't, but what I mean is THERE ARE A LOT OF YOU NOW, which is honestly great), so don't worry if I take a while to get back here.
Edit 2: This post has gotten ridiculously popular, but again, rest assured I will get around to EVERY GAME HERE! I'm trying to go through them in a first-come-first-serve way, but some of you may see delays because I have bad internet that takes a long time to download larger files. If you think I've skipped over your game, don't panic, I will get around to it! Glad you are all enjoying the art!
Edit 3: I know I'm a lot slower today than I was yesterday, apologies for that. I am very tired, and that ain't an excuse, but it is causing me to be more easily distracted and exhausted in doing this today. I'll still try and get through as many games as I can, though, I'm not giving up on this! It just might take a while, the patience is much appreciated.
Edit 4: I was going to write another thing to say I'm still tired, and may be even slower than yesterday. But I will get around to everyone! I just will take a while. I don't want to let y'all down.
Edit 5: If y'all get some glorious fan art from MegaQuack, be sure to thank them, alright? Their style of fan art is beautifully disastrous on a level I will never reach.
Edit 6: Shout out to kenez's rad as heck fan art topic! If you want to go admire some art that's actually, well, GOOD, go check out the "Wow! Free fan art for everyone!" topic!