Hello,
Mage Fighters (temporary title) is a game I started working on a few weeks ago, but that I have been thinking about since years. This is a 1vs1 mage duel game about channeling magical element to unleash powerful spells at your opponent. The game is a mix of action and strategy mostly inspired by classic fighting games and Magic the Gathering: Fight opponents (ai or online players), gather new spells, build your spell book and become the strongest mage around!

The small GIF bellow shows the current state of the game. Art-wise it mostly uses assets found here on itch, plus few things I did myself. Under the hood Nez/MonoGame is used for the rendering and a custom made deterministic engine handles the gameplay/physics (in a nutshell it means that frame perfect online play is possible). The overall gameplay is mostly designed but the evil is in the creation of the various spells and their balance!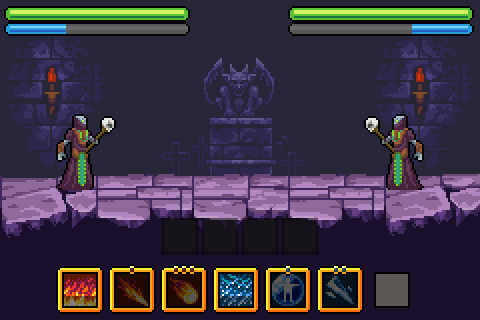 I figured out Devtober would be the perfect excuse to work on the game on a daily basis and write progress reports. The goal being to have a demo on itch by the end of the month! I'm looking for an artist interested by the project willing to develop the universe (you have white card) and make the art (it could be non pixel art too). So if you are an artist AND the project seems interesting to you please contact me with a portfolio by replying to this post!

I don't have any money to pay you, I can only offer 50/50 rev share... I know... I know...