---
"a cutesy clicker about cannibalism."
---
overview

Day 3: BGs and Character Sketches
Day 3.5: Finished Vera and Fantine
Day 5: Finished Charlotte, Angel, Maddox, and Ellionna
Day 5.5: Finished Female Child Walk
Hello ! My name is Reine and I'm making a game for this jam with my S.O., Princeton (writer and BG concept artist), and friend James(programmer) !
This isn't the first game we've tried making together, but it is the first that we are actually going to finish !!! I hope.
Princeton and myself both have ~40hr/week jobs, but we hope we can do this !
synopsis
Our game is the prequel to another game we want to make, if this goes over well. It's about a little cafe in a
nondescript area of the world that serves human, instead of animal meat. (Don't worry, it's all donated legally !)
The game will start with you owning the restaurant, and trying to become a famous cafe.
gameplay
We're planning on making a clicker-type game. You'll be clicking on bystanders that walk in front of your storefront. (OR Maybe just clicking anywhere and then the random people that show up on screen will increase as you click more ? It's Undecided.) You'll gain points from that and can use them to buy different upgrades (such as different foods, and special events that will gain more customers). There will be people who come and try to make customers not want to come to your Cafe.
You will also be using the points you make to buy and level up employees.
assets
i'm making most of the art myself, with some help from Princeton (concept art for backgrounds).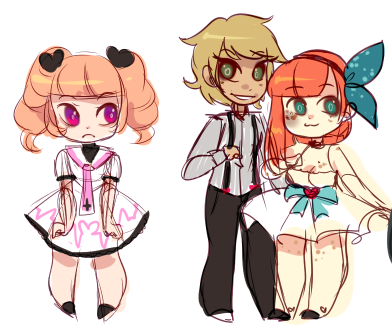 More finished sprites here
Here are some really rough sketches, but that's about how the is going to look. We wanted something
simple, and cute to foil the fact that our game is about eating people. lol.
Left character is one of the hecklers in the game, because not everyone is ok with eating human liver.
Right are the two owners of the Cafe, who give the responsibility of managing it to you.
We're doing so much research on safe cannibalism that we might be getting tracked by the feds, haha.
program
Our programmer is thinking about using GameMaker, but we're not sure if we can even make a clicker in that program.
If anyone knows a good program for this kind of game, please let me know... !
Good luck to the other jammers out there !