EDIT: It's done. Take a look at this post, and/or check out the submission page and project page.

Hi!

So I'm not sure if I'm supposed to be starting on this already so I've limited myself to throwing around ideas and not creating anything yet. With that being said, I'm 100% onboard so I thought I'd introduce myself, what I'm (probably) going to build, and how I'm going to go about it. Also, I have a spiffy (temporary!) title card I wanted to show off.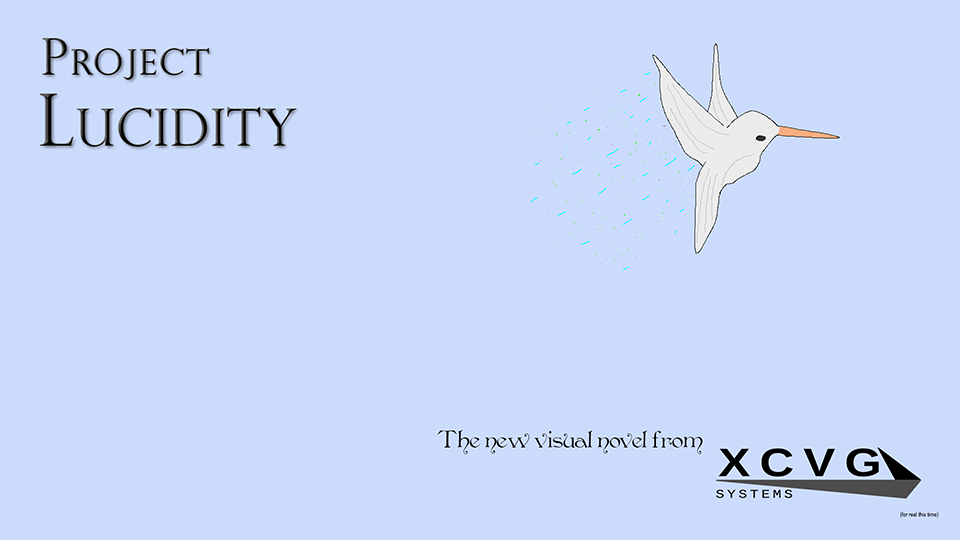 It says "visual novel" there but that's already on the rocks; I'm not sure if I'm going to do that genre or something else this time. The "for real this time" is a bit of an in-joke: visual novels are kind of cursed for me in that I've never finished one. Project Katana was cancelled and Whistler was never publicly released for various reasons. So maybe my challenge to myself should be to finally finish one of those?
Some of you might be looking at the codename and the bird and already figured out what one of the inspirations is. It's not going to be a major inspiration but it will be part of it.
I'm a professional software- but not game- developer who's been making games on the side for the better part of a decade now. The early ones were bad, the newer ones are also bad but a lot more complicated under the hood. My main project is Ascension III, a semi-open-world 3D RPG built in Unity, but I do a lot of smaller projects also. Honestly, I've been having more fun with the smaller, sillier projects lately. This will be the second jam I've done in a row (technically at the time of writing I'm still working on one), three if you count the mad dash to build Toilet Paper Panic in two days as a jam. What can I say, I can't go outside and I'm bored. Might as well make something of it.
Why did I decide to do this jam in particular? Mostly because it's different than most of the stuff I usually do. That, and the timing was right.

So, back to Lucidity. I'm probably going to do something story-driven, since I've been doing more gameplay-driven games lately. I have some story ideas in mind, but I'm struggling with two issues: not making it too dark, and avoiding plot elements with unfortunate implications.
For instance, an early draft of the intro sequence had that bird decapitated by a meteorite. That's very much definitively scrapped, but that should give you an idea of the type of story I normally go for.

More details to come!