Hi everyone,
I wanted to share the traffic analytics of a low budget free indie game I recently published, and the influence of different methods I tried to promote it. Hopefully this will be useful to others trying to promote their games.
For context, the game is Terminal Sickness: A story driven text adventure following a mother's survival after the outbreak of a global pandemic.
After I finally felt brave enough I published my first ever game on 19th Sep 2018. My initial strategy for promotion was sending a link to all of my friends I thought would be interested. The result of which is below. It reached around 50 people, and then over the next few days, the daily traffic fell to pretty much to nothing... This is likely an unsurprising result to most people.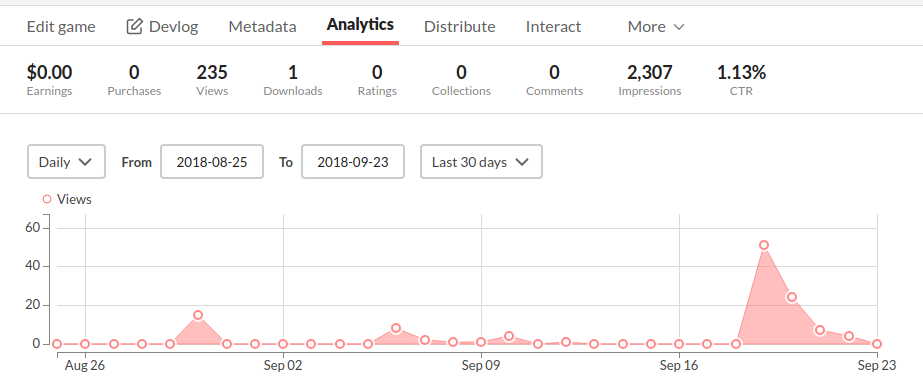 So, I asked for some advice here on itch.io and one fellow developer was kind enough to make a suggestion. Try putting the game up for an initial low price, and then have periodic sales to encourage people to download/play in the moment of the sale. However, I really like the idea of making free games and letting people pay if they want (it isn't my full time job, I just do it for fun!).
So, I decided I was going to self promote my game
Of the social media platforms I only really use reddit, so this is where I started. I started by spending some time searching for different sub-reddits which looked appropriate for my game. In my case, I was focusing on free games, indie games and text adventures / interactive fiction. For each of the sub-reddits I read their rules. I did not want to just bust in on a community and promote my game if this is not something they want, it isn't fair on the subscribers or the moderators. However, many of them did accept limited self promotion if it was relevant.
I kept the actual promotion posts very simple, a direct link to the game with the title being the name of the game follow by a short strap line: "Terminal Sickness - A story driven text adventure following a mother's survival after the outbreak of a global pandemic.".
I wrote a short piece on why I made a text adventure game here itch.io. This post did link to my game, but wasn't the main focus. I then posted links to my post on sub-reddits related to game development; again, if I thought their communities would be interested.

I also registered my game on online databases which appeared relevant, such as www.igdb.com and ifdb.tads.org. There were other sites which also looked like they could be useful, such as indiedb.com, but they were geared to larger games with real publishers and I couldn't provide answers to many of the questions they required for registering.
Finally I sent requests to indie game review sites to see if anyone would consider reviewing the game.
The Results
Below is the results of traffic to the game after the promotion (we're at the start of the last day, rather than it being a sudden dip). As you can see, it helped quite a lot.

But the interesting thing is where the traffic came from: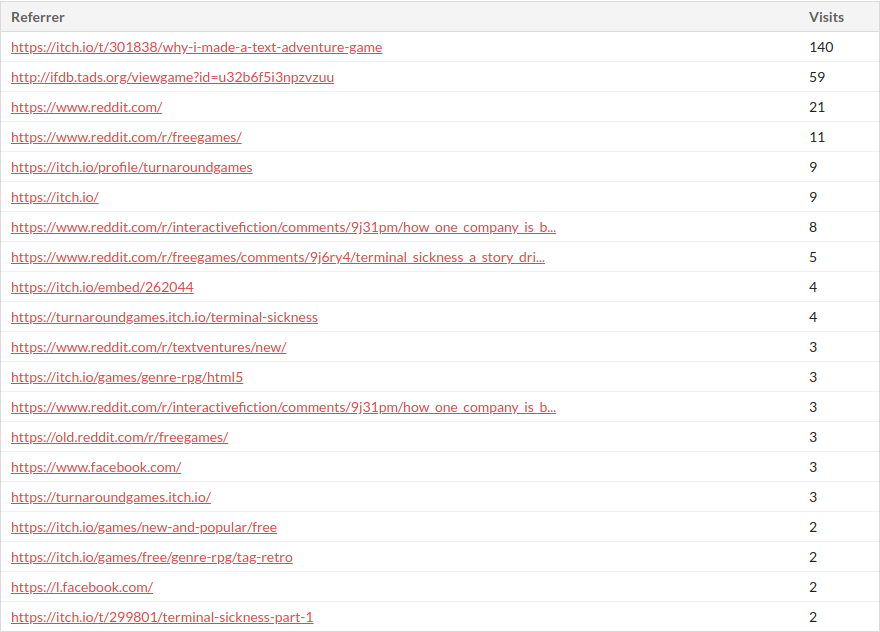 So, the number one most useful promotion I did was writing a small post on why I made a text adventure game which I then posted on game-dev related sub-reddits. The second most most useful thing I did was registering my game on ifdb; which is a data base for interactive fiction. The third most useful thing was posting links to the game on reddit (many of the other links lower on the above table are also reddit).
Over all, writing a small post, sharing links on reddit and registering the game in online databases took maybe 3-4 hours spread over a few days, but made a reasonable difference in the number of people reaching my game. However, I was careful to be respectful of those communities. They should not be seen a place to spam, only share things if you think it is relevant / interesting to them. Otherwise you're just wasting everyone's time whilst making yourself look bad.
Contacting reviewers was entirely fruitless, this may be because my game is slightly too hobbyist for most review sites.
What was most interesting is I spent no money and created fresh accounts on reddit and every other platform / database I used. i.e. I came with literally nothing, was not plugged into any community previously. Despite this I managed to do useful self promotion. I think this is the most useful take home to people who have just finished their game and don't feel like they're in a position to promote it. You really are!
Anyway, I hope this might be useful to others
And if you are at all interested in seeing the actual game it's here :)
Thanks!
Turnaround Games