Currently Untitled Penguin Game
This Dev Log is focused on the coding side of the game, you can see update videos on my twitter @Queekusme
The basic idea for the game is you are in control of one of two penguins, you are raising an egg and have some challenges to complete...
Day One
Progress on day one was getting the basic characters working. you can move the penguins around using WASD and/or using an XBOX controller. The player can also switch between the two penguins (actually any penguin however it's currently set up to loop between just the two, for now) by pressing either Tab or the player can cycle through penguins with LB and RB if using a controller.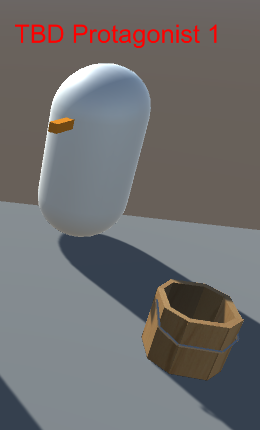 I wanted to get controller support working as quickly as possible as at the moment I'm preferring to play games with a controller. Ironically I sold my Xbox in favour of PC Gaming...
The final functionality for Day One was implementing a basic inventory which could hold fish.
Day Two
Day two started with me adding the egg to the penguins. All penguins have an egg however if they are not in charge of their couple's egg it's hidden. Players cannot move if they have control of the egg until the other penguin has taken it from them. When the player switches to another penguin. If that penguin has an egg, they will take it from them once they have returned to their starting position. This is done using the Unity NavMesh system for simplicity (This may be fun to extend to swimming logic...)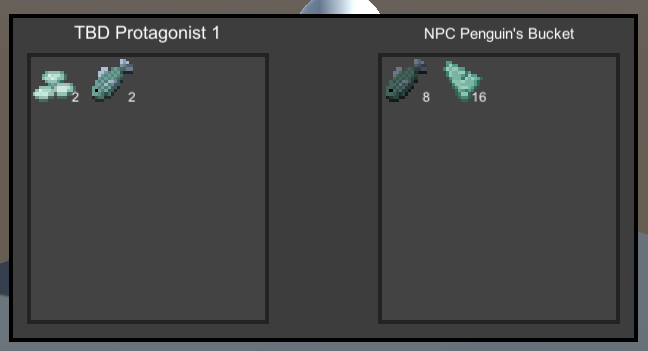 I also updated the inventory to handle multiple items. I redesigned the inventory screen instead of having bulk move and single move buttons, every time you click (or press A) on an item, it will transfer one of that item to the other inventory either a container or to the player's inventory.
Day Three
I started today by working on the whole controller mapping for the game. this was so that when i came to implementing features I would already have the mappings decided upon. I posted this in the discord chat for feedback and here's the final mapping. DPAD no longer in use :P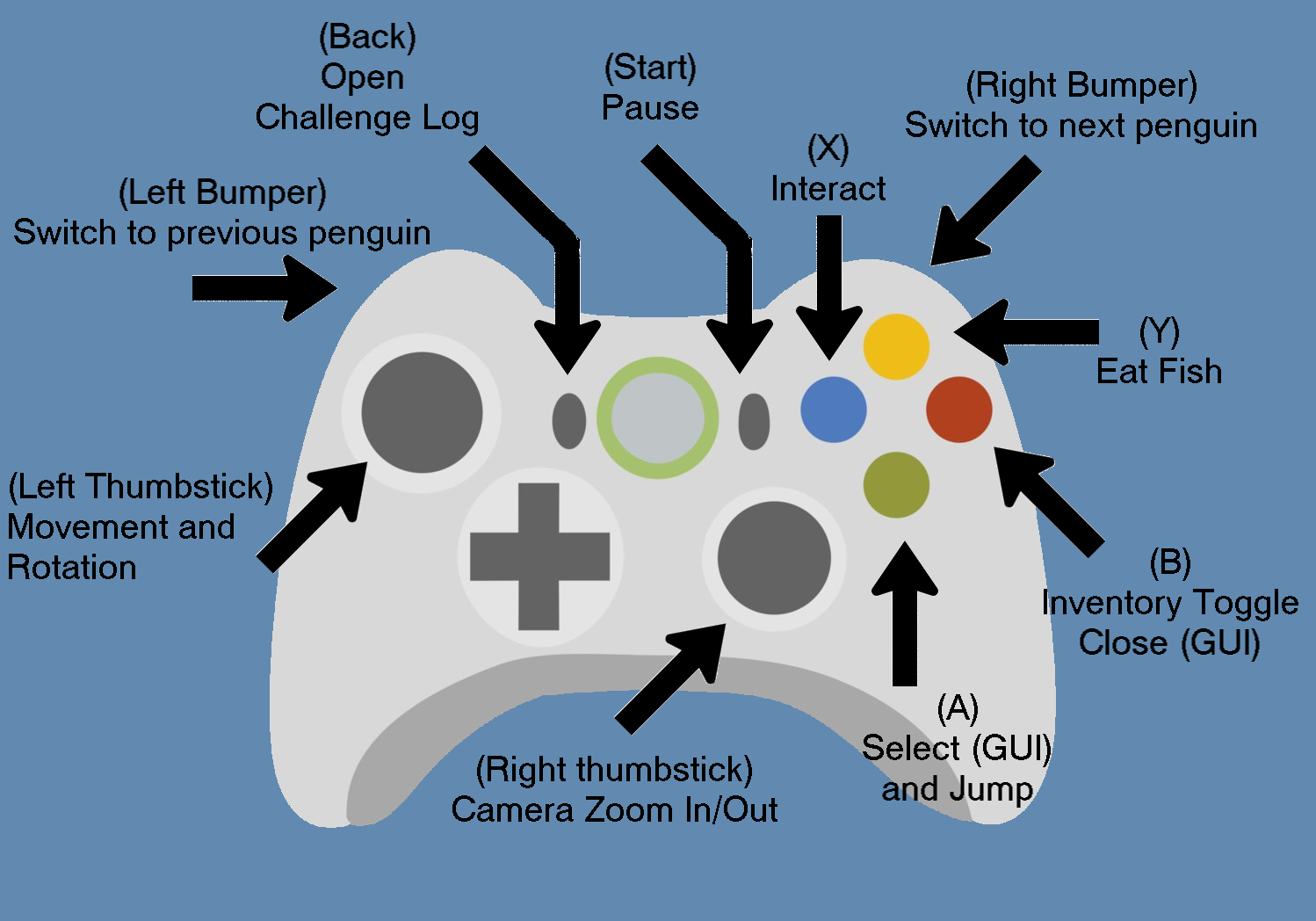 I also worked on a read-only version of the inventory which would allow the player to see what the penguin they were controlling was holding. This was extended by having the icons (when clicked (or with A)) open an information popup which gives the full information about that item, such as name, description and rarity.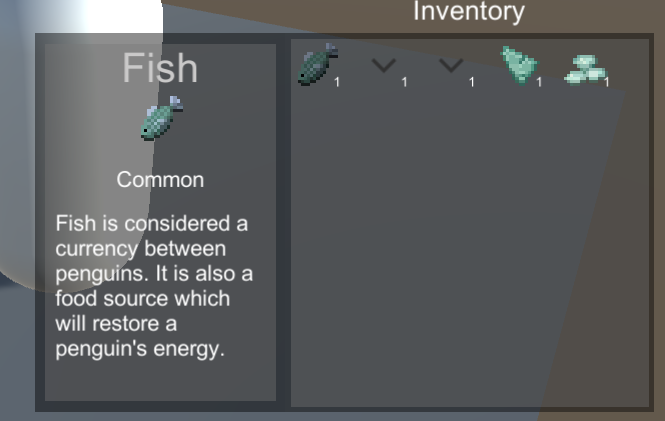 There are 2 extra items added for testing rarity colours.
Fish = Common = White
Downwards Caret 1 = Uncommon = magenta
Downwards Caret 2 = Rare = yellow
Prismarine Test Items (Both) = Unique = cyan
Overall the inventory item is pretty much complete now, you can add and remove items, view the items and move items between containers.
Day Four Plans
Possibly start the Challenge System which contains various challenges

Accumulate a certain amount of fish
Swim ?? km in the pool
etc...
Future Plans
Complete the Challenge System and add reward items in some capacity
Shop system to buy and sell items rather than just taking them from an inventory
Dialogue system

Links to Challenge System (think quests)

Swimming controls
Energy system (Eat fish to replenish)