Let's start right off the bat with some music! Myserval whipped up a couple test themes to get a feel for how the music in the game should sound.
Here's a mischievous one: https://clyp.it/1fjwwhxz?token=0c2fcaded34f30f0b373cc33ce2bae60
And here's one for the tutorial: https://clyp.it/bujhs1rp?token=da3ff8d720a496f56a9110755893513b
Tibby began work on another character's theme (whom you'll meet tomorrow) and started sourcing inspiration tracks for characters.

Honestly I thought that'd be a lot more interesting but hey now you've got cool music to listen to while I talk about the next stuff!

Next stuff of course being art - duh i mean of course its art what else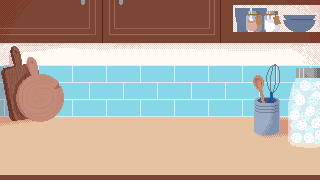 Banrabbit created this for the kitchen layout - look at it! It's so pretty!

Speaking of the kitchen, we started talking about how interactive the cooking elements should be, and whether or not the interactions are worth creating more assets for. To start off with, it's a good idea to add some sort of intractability and chance of failure. Oh! I'm realizing now that I haven't touched at all on that yet so allow me to [copy and paste from what our programmer wrote up]. This would be a good time to start playing that tutorial music
(All numbers are fudged for the sake of example)
You have a 6 hour shift from 2pm to 8pm
When you start you see a clock in the corner it only advances when certain actions are taken:
Taking someone's order (5 minutes)

Preparing food (10 minutes)

Having a story conversation with someone (20 minutes)
Serving food consumes no time
People come in at different times of day and will have one of 3 possible indicators over their head to reflect their state
means they want your attention, if it's yellow it's to order food, if it's red it's because they have an urgent conversation

means they're waiting on you to serve food they ordered

means they are thinking/eating/content, they're not actively trying to get your attention but you can try talking to them anyways and you might get a story conversation
TL;DR: Actions take time and you're gonna have to balance them if you wanna ever have a chance at a connection.
Whew okay anyways we talked about having a mini game to play whenever you make a recipe, which determines how well you cook whatever you were trying to cook. Like, a candy crush sort of game with all of the ingredients you'll need, or similar scenarios.

Well there weren't any dogs either today which was somewhat disappointing but we're all working on the game so no dog cafe today! But tomorrow you'll be seeing the next character (one of the mainline ones) and hopefully soon you'll be able to play it a bit!
I think we're at 8 strawpolls now

Thanks!