Guide of Souls is (going to be) a top-down RPG about an old warrior, born with the ability to see ghosts. You play this old warrior, who helps ghosts pass on into the afterlife by hunting down and killing their murderers. His abilities are well-known, both in his community, where he works as the guardian of a small township, and among the ghosts, who travel from far and wide to ask him to avenge their deaths.
Platform:

I'm using RPGMaker VX Ace (the version of RPGMaker that I currently have) to create this game, with the idea that I might finally buy a pro version of RPGMaker once I get this game off the ground. This will be my first time using RPGMaker, or indeed a visual game design program at all.
Goals:
My primary goal this jam is to gain proficiency in RPGMaker. I would love to come out of this with a completely working game, but my idea might turn out to be a bit too large for the free version of this program. If I can't create the full game that I want in this version, then I want to at least come out of this jam with a playable preview of what my full idea is. I also want to learn how to create my own visual assets.
Day 1:
I started the jam knowing what platform I wanted to create my game with, and a basicbasicbasic idea of what my game narrative would be. I spent the day brainstorming story ideas, conceptualizing my plot outline, coming up with a title, and creating my player character's background story (as well as trying to come up with his name). I then went through several pages of the official RPGMaker VX Ace tutorial, and created the 'home' town map.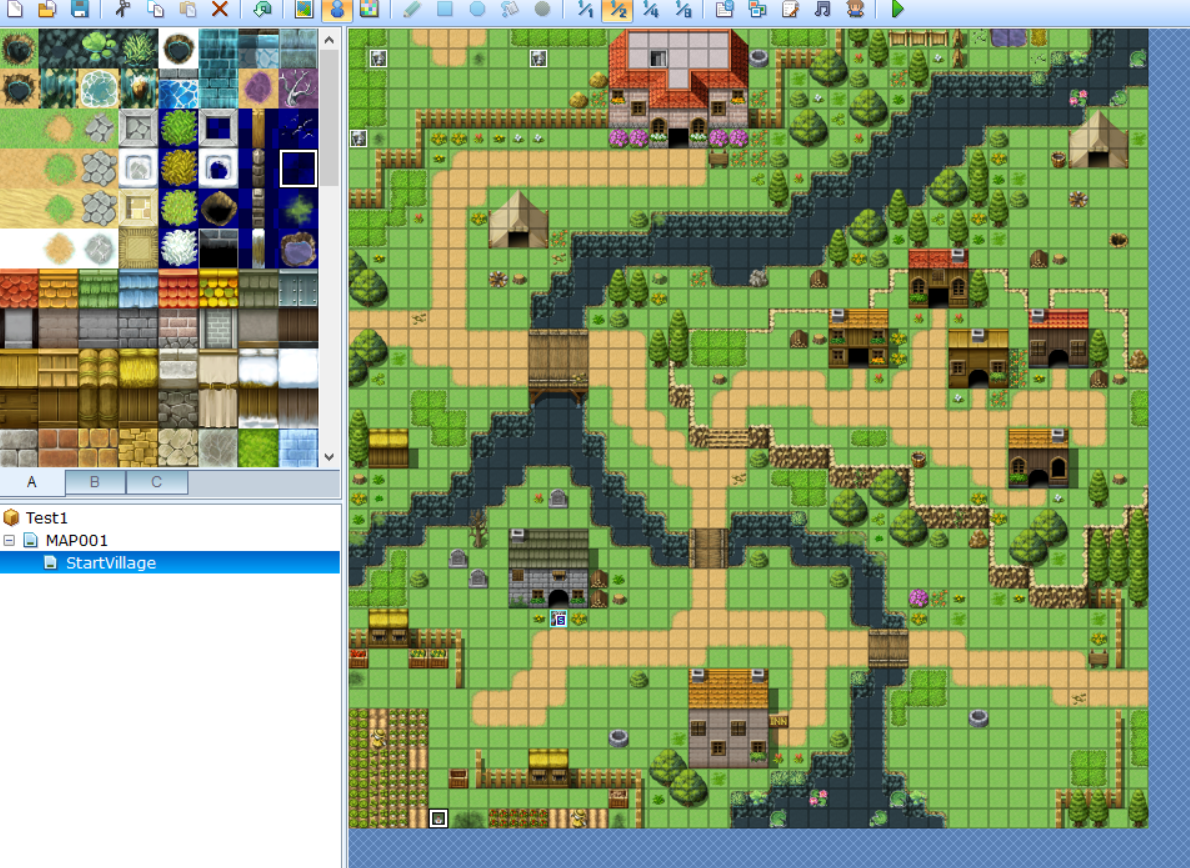 I spent multiple hours designing that map, so I'm thinking maybe I shouldn't spend that much time on mapmaking in the future? There's probably a bit too much 'stuff' on the map (I just wanted it to feel real, y'know?) and I need to make a map for literally every possible indoor area now, plus the field map and literally every future location map, and if I spend two hours for every 30x30 square tiles......... that's gonna be more hours then I have.
Also I don't think I need to make them all 30x30 square tiles.
I'm going to use pre-made assets until the game's pretty much done, and work on creating my own assets afterwards, or at least that's my current plan. My plan for tomorrow is to build every character profile (on paper and within the program), and come up with a serious project plan so I don't waste as much time on minor details.