Hello everyone, nice to meet you!
I first heard about AGBIC (and Famicase <3) last year but I at that time I wasn't able to properly work on a game project for it, so I am considering this year as my first official entry on this jam. I have never written a devlog before and I rarely have the confidence to post the details about my creative process in public, but I felt this could be a cool opportunity to try it out and share my progress with you. Hopefully I won't fail to keep it updated but hey, game jams are great for experiments, right?
Note: I'm not a native english speaker, so pardon me for any mistakes. Feel free to correct me as well, I appreciate it!


Choosing a cart and a concept

#1 - Choosing a cart and a concept
As the first entry on this, let's start with the base of everything.
I spent some time browsing through every cart from Famicase 2017 and saving my favorites to a folder, from which I took more time to come up with ideas and concepts for each one of them. I kept filtering the ideas to find a balance between a theme I enjoy, gameplay that could be fun and what I can realistically finish within 2 to 3 weeks. Between a quirky RPG, a vanilla metroidvania and an action platformer, I ended up choosing the latter.

The cart chosen was JK 暗殺者 (or "JK Assassins") by José Salot. When I saw this cart, I immediately thought about old school action platformers with badass characters doing flips and fighting against evil robots. Thus, the "action game about high school ninja assassin girls" idea was on.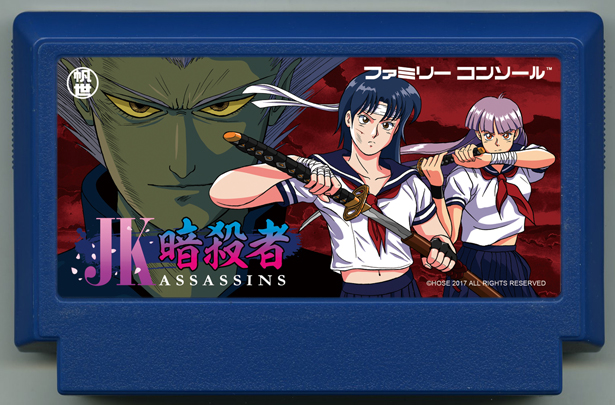 The plan is to make an action platformer with 2 playable characters, each one with slightly different movesets and attacks. My main source of inspiration are games like Strider, Run Saber, Megaman X and Ninja Gaiden. One thing I want to do differently from most of these games is to give emphasis to exploration by creating interconnected areas instead of the straight-forward action packed levels, but that might change if it turns out to be too complex.

With about 6 days for the Jam to officially begin and the flexibility given to us to start early, I decided to use this time to prototype and experiment a little bit. I expect to be sharing more with you soon, until then thanks for reading and I wish you all good luck with your games!

\ (• ◡•)