For lack of repetition , I've often left the subject off of the sentences in the following posts. Generally speaking, the subject can be inferred to be We (as in Łukasz and I), for coding-based tasks, Łukasz , and for art-based tasks, I (as in myself). In no way would I want to take credit for work I haven't done. :)
Nov. 14, 2017: Łukasz messages, informing me that he is working on a sequel for Gruniożerca, a game he had made for charity. He has basically entire game concept planned already:
Łukasz :
"I have fully flesh out the idea, but the basic premise is to have it a one screen platformer. Grunio will be able to collect special items. Once collected, he can materialize the bricks (Solid MetaTiles) so he can jump on them. In each level he must get a key and head to door. Each level also hold a carrot as bonus item. Collect a carrot in each level to get a special password at end game. Other objects would include something like a chair that Grunio can push and jump on."
Łukasz states that he intends to use open source background graphics but requests that I make the player animation.

Nov. 16th: Łukasz puts together the following mockup using this art from OpenGameArt: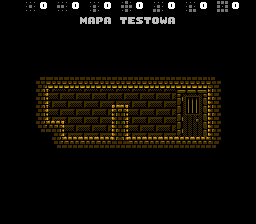 I start work on player animations, palettes, and theme (chew toys instead of bricks, etc.).
Nov. 17—18th: We add hammer item to the game plan, create and implement nearly all items, blocks, etc.

Nov. 19th: Grunio animations started. I struggle a bit differentiating him from a hamster or a dog. Eventually decide to embrace cartoon aspect of character in lieu of biological accuracy (for instance, moving Grunio's distinctive facial fur pattern to surround his eyes, allowing eyes to be visible in sprite).