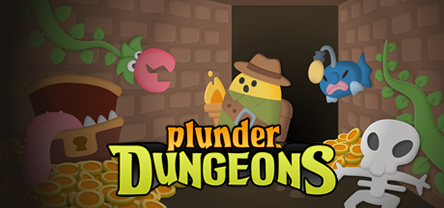 Ever wanted to play a game where you're a wizard who throws cheese at roast turkey monsters?
How about casting X-rays against a living fondue pot while dressed as a potato?
Test your mettle in Plunder Dungeons, a card-collecting, monster-bashing Adventure!

Itchio: https://ci.itch.io/plunder-dungeons (free demo available)
Steam: https://store.steampowered.com/app/1928810/Plunder_Dungeons/
Nintendo Switch: https://www.nintendo.co.uk/Games/Nintendo-Switch-download-software/Plunder-Dunge...
Crawl through randomised dungeons to discover treasure
Collect 100 different weird elements and use them as either weapons or armor
Battle 52 types of monsters and try to avoid permadeath
Get your name up in lights on the global leaderboard (on each platform)
The game is
25% off for launch week
on all stores, we hope you enjoy playing!