Hiya! I participated in 7DRL last year and made a game that I later renamed Hexagone. My intention is to complete the 7DRL challenge this year as well with a significantly different game!
Here's a short bit of narrative background for the game:
In 2050, all means of traffic (except public transportation) have been outlawed, including cargo vehicles. Nowadays, many traders board the subway every day to travel across the urban area, buying low and selling high, to make ends meet. You need to pay your debt today: can you multiply your investment simply by toying with supply and demand?

Two important bits there: the player moves by traveling through a subway network (keeping track of timetables and the railway planning), and can buy and sell stuff on stations (buying low and selling elsewhere at a profit). I worked on the first bit today!
Here's my initial concept of how I want the map to be generated before the game starts:
1) Make nodes on a grid. Each new node must be either perpendicularly or diagonally adjacent to another node, preferably more.
2) For each node, determine location name and blurb.
3) Create routes that connect nodes.
4) For each node, determine item prices (slightly based on nodes surrounding it) & amount of stock for each item (around 20 of them).
5) For each line, determine frequency (mostly around 30 min but between 10 and 60 minutes) and travel time (between 5 and 20 minutes.)
6) Put player with some supplies and some money on a node that has at least two connections.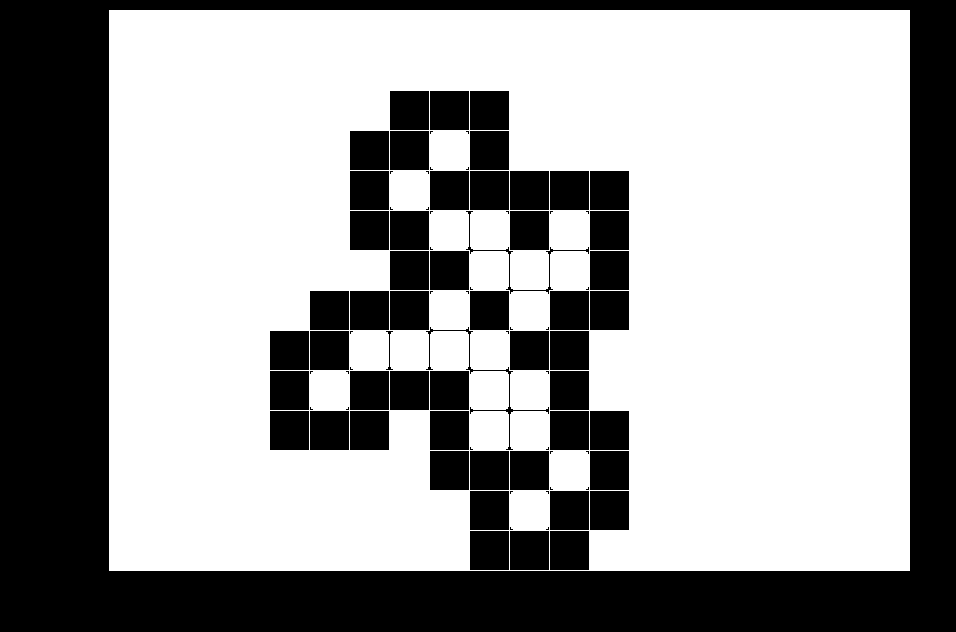 This is how it generates maps: it keeps track of what tiles are on the "border" of the map (the tiles in black), picks one square at random (in this image it becomes sort of a rounded rectangle), and then adds any new parts of the border.
Then I added a generator for random station names, so you can distinguish them by more than just their location. I kind of designed the names to sound like neo-Dutch, sci-fi sounding terms with typically Dutch word parts mixed in. It generates some super silly stuff ("Nadu-dyke", "Yunnuijs" and "Ninduloft", to name a few) and I kinda love it! In a similar vein, I also made a subtitle generator to describe the environment or points of interest near the station. This is less silly and acts more as randomized world-building, describing places as "Bridge-connected jungle" and "Underwater Library". Finally, I added tooltips to display this info! Here's the result: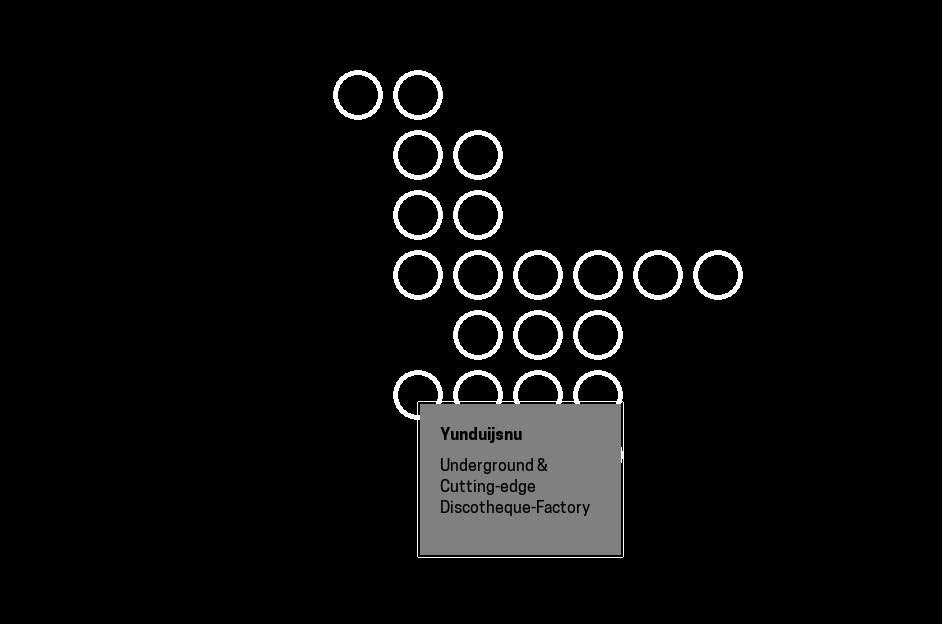 (The font is Cooper Hewitt!)

The next problem is that I need to connect the nodes in a way that makes sense. That's the next problem that I'm going to tackle. I hope my scope isn't going to be a problem, I'm going to end up with a slightly more complex game than last year, so I need to be careful.
Good luck if you're also participating this year!