Creator of
A 2D climbing hill racing game with monsters (that aren't zombies)
Racing
Recent community posts
Ty

Some items still need nerfs/tweaks and time limits (like nitro and gravity folder, for now you can use them forever)
Ty
Im aware of the clipping you said... Its when you falled at a very high speed to the ground and the car/wheels clipped each other, like the car broke the suspension/the suspension is hyper insane?
The tire physics sometimes can be wonky as hell when you fall to the ground (specially at high speeds), but it should correct itself quickly and not affect the car itself. However, the correction can be delayed/have a hard time if you force the wheels too much. Like the image here (where im forcing the wheel against a wall).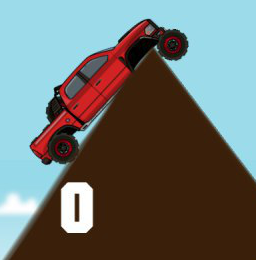 Ty for the feedback.

My goal is to rely more on thrusters and the other items than the car itself to pass through obstacles and finish levels. On the first levels, you will have almost no items with no upgrades, so you need to rely on the car more. But later in the game, you will unlock upgrades and other equipament.
I will make some changes, but this is the first level/tutorial, so it will keep simplicity.