Hi Joe,
Good question! I actually did that by hand in GIMP, using the 2D as a base, maybe 4-5 years ago. When I say "by hand" I mean that I used filters and blending with some careful tweaking. It took a bit of finessing and I'm not sure I remember exactly how but I did more recently re-create it from scratch using just the functions built into PixelCNC as a sort of test. After loading treeoflife.jpg as a raster-layer I traced it into a paths-layer, and from there used Shapes From Paths to create a few rounded shape raster-layers and carefully blended them together by adjusting the vertical position and size of each and experimenting with the layer blend modes. The radius of the rounded shapes that Shapes From Paths generates is controlled by the Z size of the paths-layer the shapes are being generated from.
In the original treeoflife3d.jpg that I made I had also included a bit of a round bulge behind the tree to make it less flat and more interesting. To re-create that I just drew a little circle on a paths-layer in PixelCNC and generated a rounded shape from that that I then stretched out over the tree. The PixelCNC recreation I think is better because it's not as smoothed over as the one I crafted in GIMP - which I employed a lot of blurs that were blended together, so edges all have that sort of Gaussian or cubic spline S curve profile to them, which is what I was trying to limit or prevent when making it.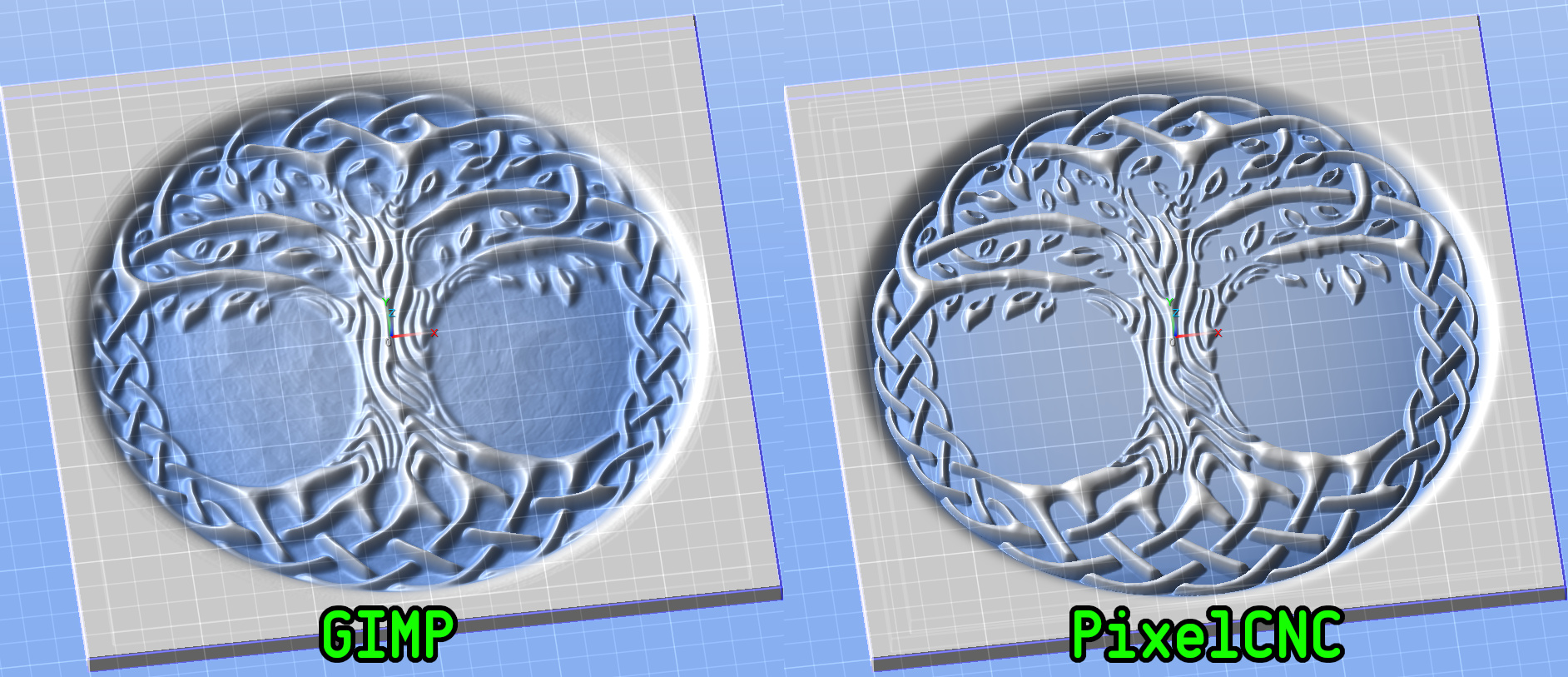 The only thing that I left out on the PixelCNC version is the roughness that I applied to the background bulge which I thought made it more interesting. It was a sort of Perlin noise, like Photoshop's cloud rendering function, and I just blended it in there very subtly. I already have plans to add some more raster-editing functions for generating textures and patterns onto a raster-layer for achieving those kinds of things. That will be really nice to have in there.
Before PixelCNC I did all kinds of stuff like this in GIMP - turning a 2D image into a 3D one, manually. The goal with PixelCNC has always been to alleviate the need for GIMP, or any other software for that matter, by offering ways and means to achieve the same kinds of results more directly. If I had PixelCNC's functionality back when I made the treeoflife3d.jpg I would've used it instead because it more accurately does what I was aiming to achieve with an image editor like GIMP but that's just me ;)
- Charlie