Hi everyone,

I have just released a new game called 'molecules' on itch.io:
https://pocketfruit.itch.io/molecules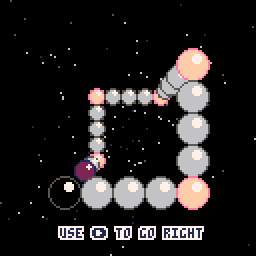 'molecules' is an experimental puzzle game set in space, where you need to find the right path along a chain of atoms in order to clear a level.
Inspired by several 3D tutorials I aimed to create a full 3D game for the very limited hardware of the PICO-8 fantasy console and thus push the console to its very limits. The game features 3D graphics and 3D controls (movement along all 3 axes is possible and needed to clear the levels) and dynamic sound effects.
I have tried to create a unique experience for PICO-8, both in terms of presentation and gameplay and invested quite some time in the game's feeling and atmosphere.
I would love to hear what you think and include your feedback into the game.
Cheers, Matt