My Pet Kingdom, originally designed for the #Lowrezjam 2016, has been improved with music, sound, a save/load system, and new structures and resources to discover! The game is now technically 64x74 pixels, but I couldn't have done it without that jam!
You start with nothing, but by collecting resources and placing them in different places and on different structures, you can soon build up a small town! The challenge is to build a tower, a church, a well, and some roads. The game is endless and is meant to be something you come back to every now and then. Enjoy discovering what everything does!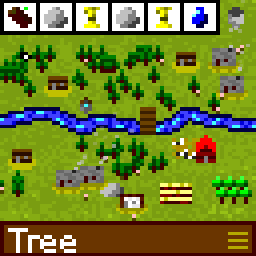 https://tomoliviermartin.itch.io/my-pet-kingdom

The demo version and the paid version are almost identical; the only difference is the save feature only works on the paid version.