Thanks for the feedback ShiftSquid!
I just implemented the cycling of characters, stages and modes...
...including a new mode...
Keep Away!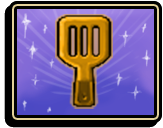 In Keep away, the chefs try to hold the Golden Spatula. Each second you hold onto the spatula grants that player another point. First to 21 wins! Just watch out another player can smack the spatula out of your hand and start getting points for themselves! For those that like their "capture the flag" mode, considered yourself SERVED!
This feature as well as all the levels 6+ and all the game modes, will be included in the final game.
...AAAAANNNND for helping out with your great feedback ShiftSquid will get an extra special treat on the games release ;)
Stay tuned