Hello and welcome to the beginning of the HORROR GAMES TO PLAY IN THE DARK dev log! My name is David and I'm the founder and lead programmer for RBD INTERACTIVE.
So what is Horror Games to Play in the Dark, you ask?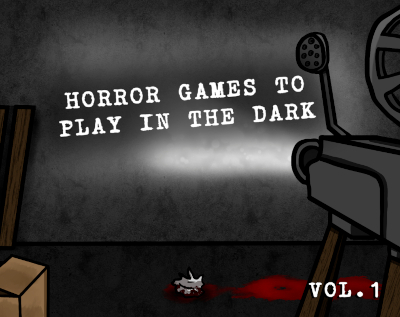 HGPD is a re-visitation to the original idea I had for Luggage, which was to create an anthology of short, interactive horror stories. This idea is something I've wanted to pursue since 2019 after releasing Cabin, but Luggage was itself a massive undertaking at the time for our small development team and we wanted to complete the goal we initially set: to create an anthology.
Fast forward to today: RBD Interactive has become a team of talented individuals, including a writer, animator, and sound effects engineer for title development, and a small but growing network of developers and studio friends to help bring this anthology to life.
While we still intend to release games independently of one another in the future, we wanted to complete the goal we initially set with Luggage. HORROR GAMES TO PLAY IN THE DARK, VOLUME 1 is intended to be a full length format of the short, interactive story game style, not a departure from the development philosophy of the studio today.

A screenshot of the first episode in the Anthology


Can't wait? You can check out Luggage, available right here on our Itch, to get a hint at what kind of project we're making.

And perhaps you will find a few more horror games to play in the dark while you're there… ;)

Follow us:
Itch: https://rbdinteractive.itch.io/
Twitter: https://twitter.com/rbdinteractive
Instagram: https://www.instagram.com/rbdinteractive/

Join us:

Facebook: https://www.facebook.com/rbdinteractive