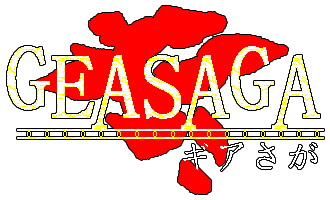 "Your journey into the land of Cirhena awaits!"

Genre: Role-playing game
Platform : PC (Windows)

GeaSaga is a somewhat traditional role-playing game with some japanese and western influences. It shares the same setting as Heroic Tale and Flesh, my previous projects, but it focuses a bit more on worldbuilding elements rather than dungeons and is intentionally much more lighthearted in nature. My major focus is to (hopefully) create an uncomplicated but entertaining adventure getting a bit of help from the player's imagination.
※ Game Features ※
Travel the Kingdom of Cirhena at your own leisure!
Complete quests, battle monsters and find treasures as you built your initial party of four characters.
Two optional and not-so-secret allies to recruit to your team.
Step into dangerous mazes where unheard creatures guard mystical secrets!
Music score taken from TK.Projects's "8bit Fantasy RPG Tracks".