Beat it! I like this idea a lot, and it's very unique. There are some usability issues with it that if fixed could make this game evne more awesome.
The string not being attached to the yo-yo makes it quite difficult to work out exactly what it is that is happening. Sometimes the yo-yo phases through the wall and it's not clear why. I think if you made the yo-yo disappear when it wasn't actively being used, or maybe have 50% alpha, you might be able to fix this.
I couldn't quite get the hang of swinging, I just had to keep bumping against the wall until I finally got up. I think the best game for getting this kind of swinging feeling right is Worms, with the ninja rope. If the yo-yo felt like the ninja rope I think that would be amazing, especially if the string deformed too.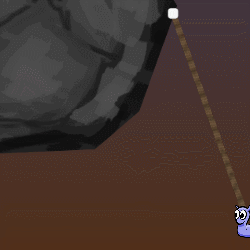 Example: somebody created this in Unity
All in all, great gamejam entry, I've rated it highly. With a bit more polish to make it "feel" better it would be even more fun.
- Joe