Thanks! Shadows do work now and everything is looking good so far!!!
I encountered a very small bug: If you want to activate 8x anisotropic filtering, the game saves it as 16x, so you basically can't choose 8x. But yeah this isn't a big problem tbh...
I have three little questions:
1. There was an option to enlarge the weapon icons, but I can't remember where it was :O. I can still edit the config "BindingIconSize", but still, I thought it was ingame somewhere..
2. There is an"FogEnable" option in the ini, which always resets to 0. Is the fog still enabled? I wonder that there is no ingame option except for "weather"
3. When I play with dgVoodoo, I get some ugly artifacts around the HUD. Any idea how to prevent this? (See image below)
Thanks a bunch for your work!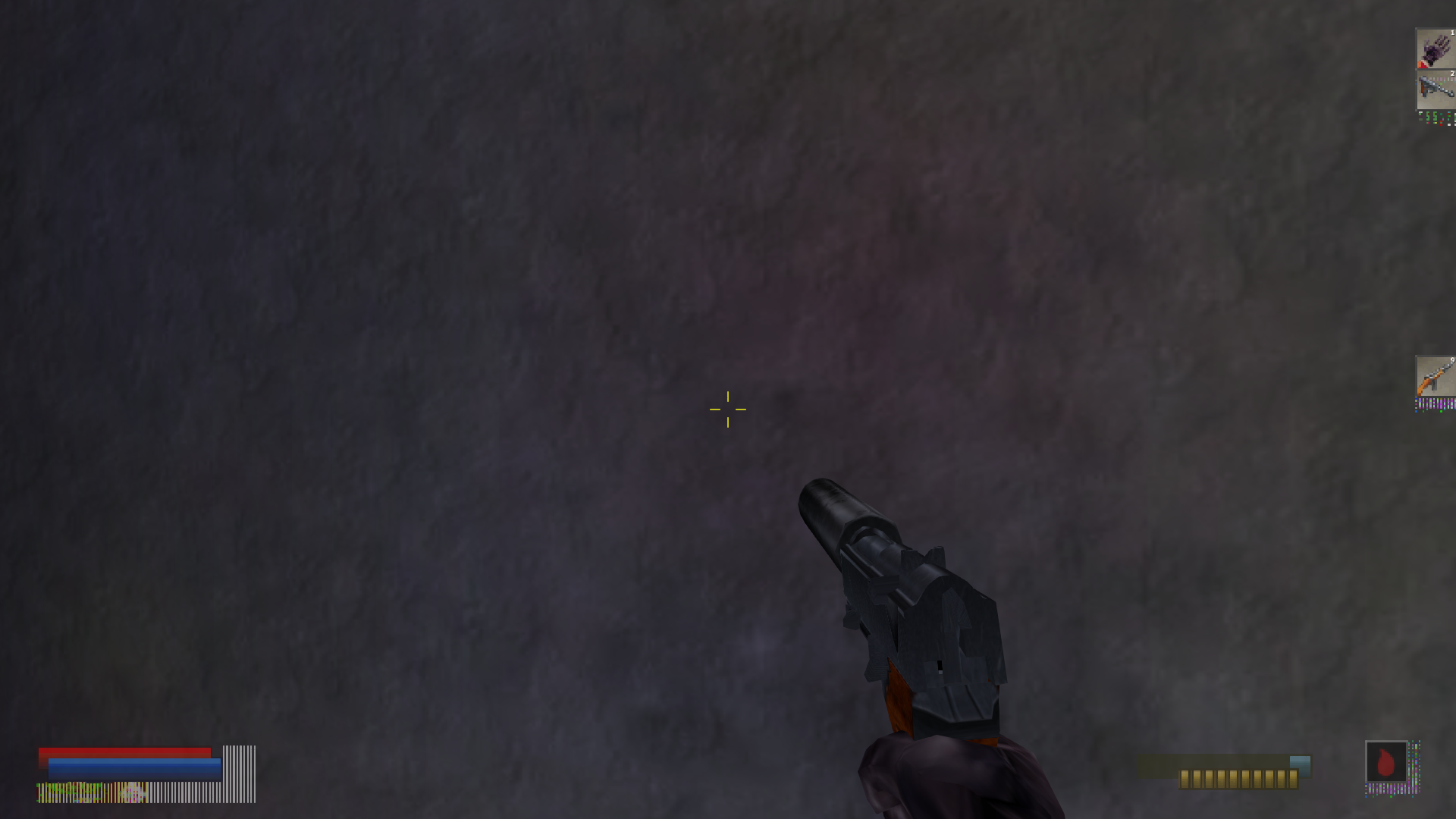 Ahh I missed one thing, I've released a hotfix that should fix that issue!

1) Controls -> Weapon Hotkeys -> Icon Size (or something similar!)
2) Fog is enabled/disabled automatically depending on the game state. (Loading screens turn off fog for example.)
3) That's just dgVoodoo being dgVoodoo. It's why I generally don't suggest it haha.

That was fast man!
Thanks for the answers! Tbh i always had good results with dgVoodoo, and it's the only way for me to play with antialiasing because... nVidia control setup thingy is kinda weird with NOLF and NOLF2 and the settings aren't applied to this game. Anyway, thanks again!
Good job, thank you!
A few notes:
- Multiplayer does not work. If you use this patch, then multiplayer works,
https://www.moddb.com/games/no-one-lives-forever-2-a-spy-in-harm/downloads/package-online-1-3
- Version 1.006 does not start on Windows 10 Enterprise 1809 LTSC
The error message is "Nolf Error. Couldn't set D3D Emulation mode". If you delete the d3dim700.dll file or replace it with the same file from WidescreenGOTY, then Version 1.006 starts.
- After setting a new screen resolution, the mouse moves in a limited area of 0.25 of the screen area. You must restart the game to become normal.

- On the Windows 7x64 SP1 Pro system, after closing the game, lithtech.exe error message
***
My game: Nolf GOTY
My System: MB Z77HD3, CPU Intel Core i5, RAM 16Gb, Video NVIDIA GeForce 560Ti , WD Gold 2Tb, Windows 10 Enterprise 1809 LTSC; Windows 7x64 SP1 Pro
Multiplayer should work! I built the servers myself haha. I'm not sure if anyone is currently hosting.
As for the crashes and problems I'm not sure. Unfortunately we never got the source code to the direct3d renderer, so there's some annoying issues with certain system configs that make it impossible to get going. I will say Windows 7 is end of life, so I can only say for 10.
And I can't say I've experienced the mouse issue, nor have any of the folks who helped test it. But I'll keep an eye out!
Hopefully you've got it running in the end! It's an old game that needs some love far beyond what I can give it!
I checked your patch on an old computer (MB Gigabyte EP45DS3L CPU Core 2 Duo E8400, RAM 4Gb, Video GeForce 560Ti, OS Windows 7x86 SP1 Pro [MSDN] )

Game NOLF v. 1.004 (not GOTY) ... all errors were confirmed.

However, this doesn't bother me at all, because I had no problems with the XL-747H mouse It's funny that someone has these problems ... it's interesting...

I think everyone should report the computer configuration, Windows version and game version.