OL standing for Office Lady***

Hello~ This is Team ANPIM here! ....And we're starting a VN/Kinetic Novel a week or so before the deadline........ again.....

In a city where a society of vampires secretly live amongst humans, Ada tries her best to keep her vampire identity hidden. Starting at a new job means starting with a clean slate and Ada is determined to keep this job for once. She tries her best to fit in and stay under the radar. That is, until she slowly begins to fall for her human co-worker. With the duty of keeping her vampire identity a secret, will she be able to confess despite the taboo of a vampire being together with a human? Can Ada even be in a relationship hiding such a big secret from a lover?! Read through this kinetic novel made for the 2017 Yuri Game Jam to see if Ada will end up baring her fangs feelings and secrets, or keep them sealed like a nailed shut coffin!
Long story short: We originally started when the jam started but gave up in mid September. But then artist jokingly said on Oct 18 "it's time to make another VN in 2 weeks (in reference to our first VN we made for the first ever Yuri Game Jam" and... it somehow became true. We had to change and shorten and take out a lot of what we originally had to fit this tight time frame we have, but s'all good. As usual, our story is nothing too big or flashy, just good ol' true and tried yuri!

We're really pushing it because half our team is busy so we have to cut corners on background and music (thank god for royalty free stuff) As of today, this is our progress:
Writing: 85%
Sprites: 10%
CGs: 0%
BGs: 100%
Music: 100%
Coding: 5%
Here are some roughs for character design so far, pretty simple!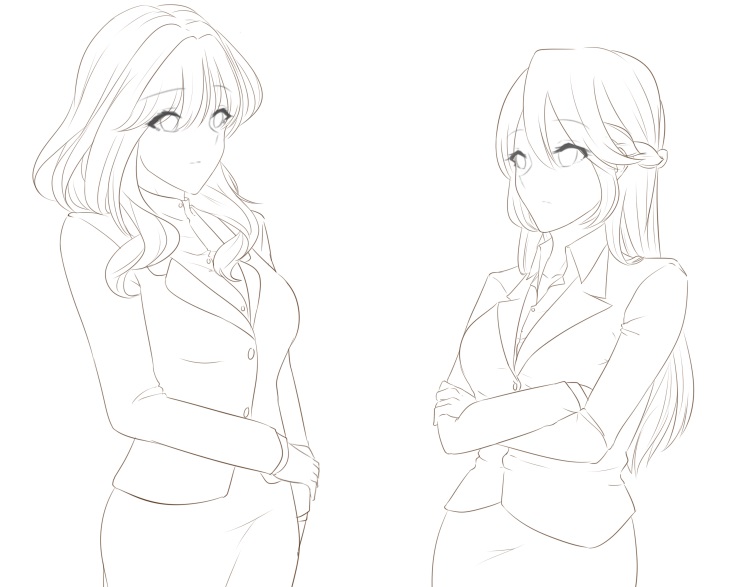 Will/might change some stuff regarding design to be more distinguished (or not seeing that we're short on time), but we're focusing on writing first! tfw artist and main writer are the same person

We hope you look forward to our short little vampire yuri kinetic novel!