After five hours of drawing assets, I'm taking a break to put together a little dev log here on the community page. So, this is my very first time making a video game ever, and I gotta say I am pretty excited about it.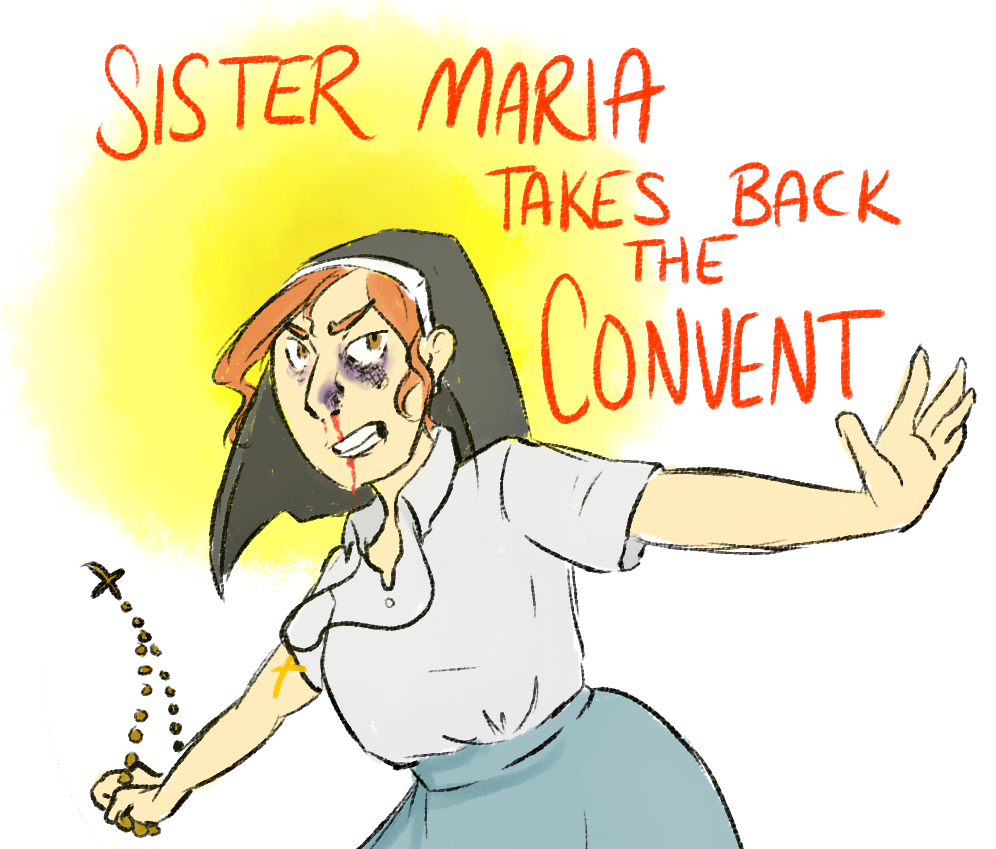 Synopsis
SISTER MARIA TAKES BACK THE CONVENT is a metroid-vania sidescrolling platformer where you play as Sister Maria, a nun at St Justa's Catholic Church. One day, she finds her convent overrun by demons, and is anointed by God to take her rosary and go kick some demon-butt! As well as banishing the evil back to Hell, she must also rescue her fellow nuns who are still inside holding their own. But her biggest task is to find Mother Superior, who is up in the chapel, and help her battle Satan!

Gameplay
As I said before, this is going to be a metroid-vania sidescrolling platformer type thing. I'm hoping I can figure out how to make power-ups and equitable weapons, because I'd love Sr. Maria to get a yard stick and a Bible as weapons as she travels through the convent.

Programming
I'm going to make this in Construct 2, and I have absolutely no idea what I'm doing. It'll be a shit-show, I'm sure.
Art
I'm making EVERYTHING in Paint Tool Sai. I've chosen to draw the entire map as one single image, and I'll place invisible platforms over the image in Construct 2. At least, I'm hoping that's a thing that will work... [fingers crossed]
[What the art looks like. Maria's sprite is just a placeholder for now.]

If you wanna see progress pictures, all of that is getting dumped on my game dev tumblr Grenadine Games

BTW EVERYONE ELSE'S GAME LOOKS SO RAD AND I HAVE A FIGHTING NUN SO [shrug]