Hey everyone. DevTalk, a visual novel development community, is hosting our second annual Spooktober VN Jam!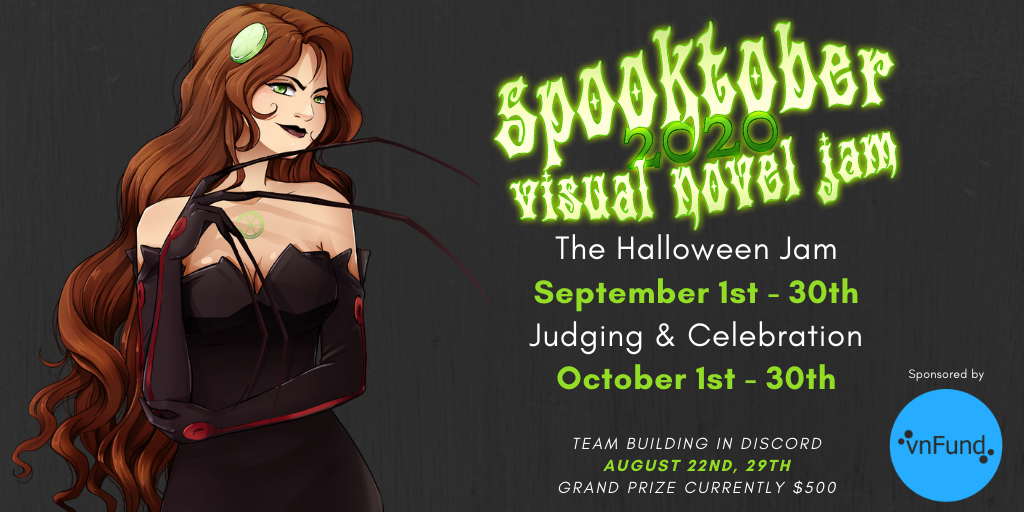 Here's 7 reasons why I think you should join it.
It's a visual novel jam. If you crave a different kind of challenge, and you're only used to making games for your jams, give this a shot. There's a lot of nuance and the (assumed) simplicity can make it especially challenging to innovate. Challenge yourself.

It's running in September, a month before the holiday it celebrates. We aim to provide the gaming community with a nice, timely load of fresh content for one of the best months of the year. Be part of it.
Did I mention there's prizes? Because there are. At the time of this post, there are 3 prizes valued at $500, $350 and $150 USD. It can be a great way to kick off your next project, power up your current one, or make a cool buck or two doing something you might have been doing anyway. Get that money.
Are you using Unity 3D? One of our non-cash prizes is a free copy of NaniNovel, one of the best paid plugins for VN and dialogue system interface development, and it has awesome support available through Discord. Upgrade your development.
The Jam is very flexible. Anything to do with the holiday of Halloween. Whether it contains monsters, costumes, candy, horror elements, or just takes place during Halloween, it's allowed. Spinoffs, fan-disc, DLC style, "Halloween episode" submissions are strongly encouraged. Do it your way.
The DevTalk community is very wholesome. We're a carefully managed, positive and business-think friendly community. We are LGBTQ+ friendly, and we live by our values and morals, and recognize enterprising individuals who do so. If you're new to visual novel development, or have been a long standing developer, we offer free services to help you on your journey to success. Join our community.
Seriously, it's about Halloween. What's not to love about that?