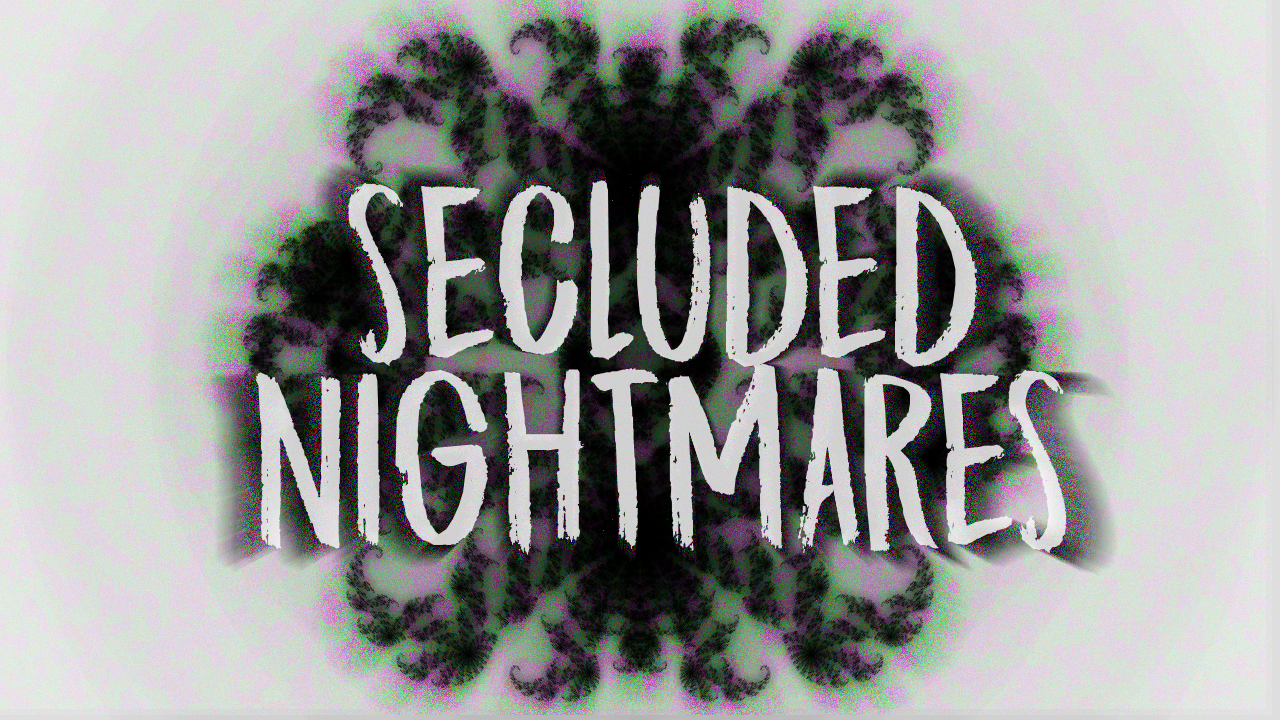 What Is "Secluded Nightmares"?
"Secluded Nightmares" is a Horror Game (inspired by "Granny", "Evil Nun" & "Ice Scream") which takes place within the confinements of a child's dreams, in order to wake up you have a five hour system, each hour passes when you get caught by the creatures found within the map. Once you die during the last hour, you will get a permanent game over and have to start all over, meaning the child has been trapped in his nightmare forever. In order to wake up you must solve puzzles in order to escape! Each puzzle is harder than the last, and some items only become avaliable during a certain hour, so plan your routes carefully!
Who are the monsters and/or enemies?
I don't have concept artwork for it so far, however i'm hoping to implement many different enemies into the game, each is gonna be randomized every time you start the game! In the beginning of the game you will get to choose how many enemies will be in the map! This will be determined by the difficulties: Easy (2), Medium (3), Hard (4), Insane (5)
The enemies will be:
A big dog who's abilities will be to run fast and be able to catch up with the player quickly unless the player leaves the area as soon as possible or crawls under a small space, his teeth glow in the dark, so it's easy to detect where he's at!
Three mannequins, they will sometimes hide around the dark and will assume the face of another character or creature, depending on what the mannequin has seen in that enviroment, they will only move while you're not looking at them and will only stay in the basement since it's the darkest place
A shadow humanoid who's eyes glow white when searching around, and the eyes will turn red if you're spotted and he will begin floating towards you, you can hide from him if you're fast, however he's able to crawl through small spaces, don't let him see you hiding or else you'll die!
A plushie! what's so bad about a plushie? Well it's possessed, this is a nightmare, remember? This plushie will be on the ceiling in the inside of a building, you have to look up to the ceiling to know where the plushie is, he will be walking around on there, and will only notice you if you're right underneath him!
An Old-School TV! From this TV will come out a hand which will crawl around anywhere in a room, this hand will dissappear once the TV is turned off for a certain ammount of time, however the TV will turn back on suddenly, so be careful! More and more hands appear the longer the TV is turned on, and once a hand has touched you, it won't dissappear until the TV was turned off for a certain time. These hands will cause you to move slower
What is the story?
The child you're playing as has come across a book he found on his attic, which he secretly took it to his room, he read some parts at a certain hour of the night, which caused him to fall into a deep sleep, it turns out this book is a book of rituals!
In the nightmare the child is having, he will come across the ghosts of six children, each children will be in each of the six different maps, they are past victims who have also read the book, but were never able to escape from it, they want your help to get out! In order to rescue them, you must find a page (which can only be obtained in hard or insane difficulties), these pages will be locked away at a part of the map and will only be unlocked after doing a certain challenge/chapter of the map, after obtaining the page, you must escape the nightmare to complete a part of the story!

You can read these pages during the nightmare and in your room, once you wake up, your page will appear in a table of your room, each time you lose the five hours or finish a map, you will wake up inside your room, however you can't leave, if you open the door to leave your room you will be greeted by a black and red void, which in the other side will have an island leading to a final portal, the 7th trial, what is behind it? You're gonna have to find out! Each page you collect will build a part of the bridge to the portal.

Once the 7th trial has been completed, you will get an ending depending on how well you played, depending on the difficulty, time, etc.
What will i need to complete this game?
This one is gonna be difficult since i'm gonna need a pretty big team in order to be able to accomplish this game, as it's honestly something i really wanna work with! Plus i'm not very experienced with Unity or anything like that, so here's what we're gonna need:


* Musician/Sound Designer! (Avaliable Positions: 2)
* Concept Artist, 3D Modeler, Animator! (Avaliable Positions: 4)
* C# Programmer in Unity, Mechanics designer! (Avaliable Positions: 1)
* Beta testers, 20 positions avaliable once a prototype has been made!
* Enviroment Designer! (Avaliable Positions: 2)
* Voice Actor, still depends on how many voices will be in the game!
* Graphics Designer, Art Director! (Avaliable Positions: 2)
If you wanna help with the project or participate in it, ask me on discord!
The link to it is: https://discordapp.com/invite/hGQxZHa

Thank you for your support!