I've released the first demo of my second game (after Dungeon Mercenary): Rogue vs Evil which you can try out here: https://hgames.itch.io/rogue-vs-evil It is exclusive to itch!

It is available for Windows, Mac, Linux and is playable in browser.
Rogue vs Evil is a turn by turn dungeon crawling pixelart game where progression is achieved through items and skills (the latter being unavailable in the demo). There is no permadeath, if you lose in a dungeon you will be able to restart from this dungeon (but your progression through this dungeon's levels is lost). Items include weapons, armors, shields, bombs, potions, spells, rings, and keys.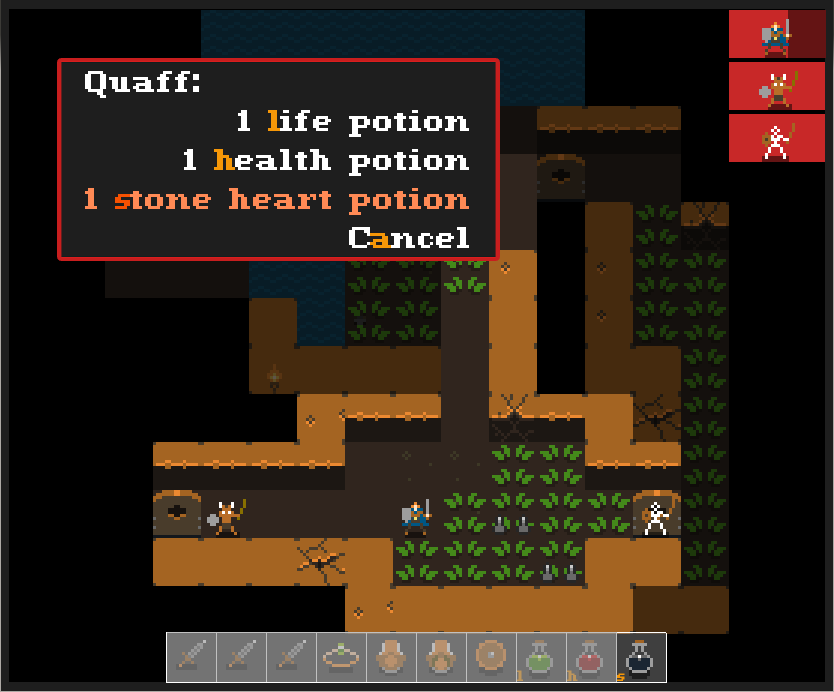 It is inspired by brogue and Sil. From the former I took inspiration from the runic system (the idea that made me wrote games was that I wanted to play a broguelike where runics were more important) while from the latter I took inspiration from the combat mechanics (attack and evasion).
There is no class system, your playstyle will be made through the items you choose to keep and the skills you pick. The inventory is intentionally small, to force choices on you.
The first two dungeons are playable at the moment. Until the full game release (planned June 4th 2019), I will work on adding miniquests to later dungeons; a miniquest being a special room, a lever that activates something, an ally to rescue, etc. I will also work on the controls, I want to add more buttons to the game screen to better fit players that aren't keyboard heavy.
Thanks for reading and I hope you will enjoy the game. Any comment and/or feedback and/or roasting will be appreciated!
Love to all roguelike players ♥