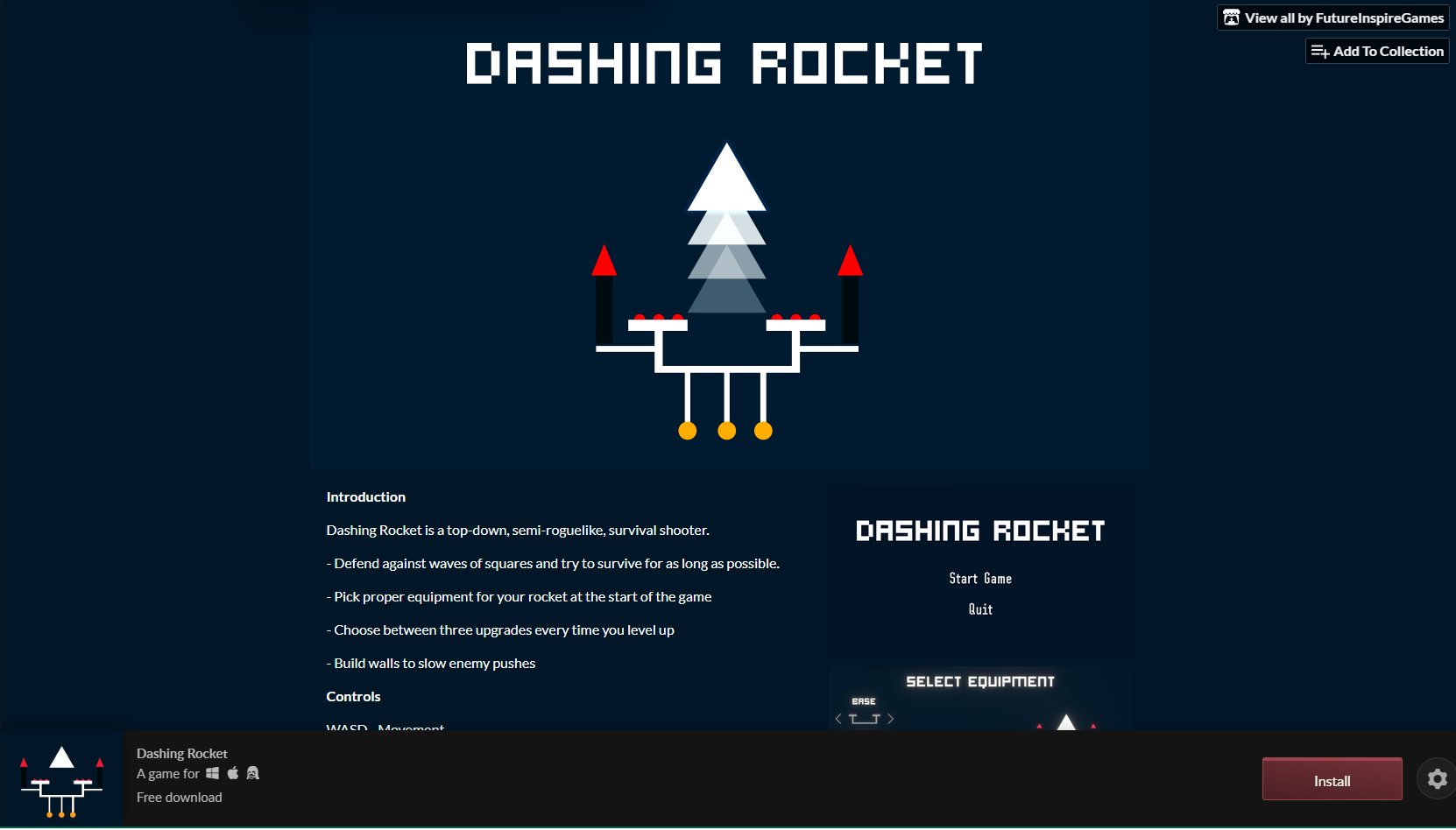 THE DEMO IS FINALLY HERE!
Thank you all for waiting for the demo release of Dashing Rocket. This is the first time I've ever done a demo for my game, and I'm excited to see what happens.
A few updates since yesterday:
- Fixed Fast Enemy Bug
- Added Initial SFX (not everything has SFX yet)
Play my demo to help me out and get entry into our competition. I will give social media shout outs to the highest scorers in the next massive devlog following the end of the competition. The competition will last at least two weeks (while I'm gone). Just send a comment with a screenshot of your new high score in order to enter.
You guys help me out a lot by playing my game and giving me feedback. And while you're at it, you guys can have a chance to promote your social media accounts on my channel. This is GREAT for fellow game developers who are looking to get some inspiration from my game, apply it to their own, and share it with the world.
As we didn't get too much time to polish the game, we are aware of how hard the game is at its current stage. That's why I've been making some blogs, pointing out tips and tricks here and there. Keep in mind that in the future, our game will have more enemies, and players should be able to survive the first couple of minutes.
I want to know what you guys think of our game. Is it worth continuing and adding more features to this game? If so, then we could be working on this games for months to come. Or is it better to just quickly add polish and finish the game? If we take the second route, then we'll just try to finish the game as soon as possible and move on. For me, this is a project I love as a developer because I am able to put all my programming skills on the table.
To be able to make a game, release it, and have an audience that is waiting for the next update of new features will be a dream come true. So let me know how much potential you see this game have. We've got a lot of things we can add to this game: more enemies, more equipments, more upgrades, new systems to add more stages within one survival run. This is just the beginning...

ENJOY THE DEMO