Hi Folks,

Aura of worlds is a creative tactics roguelite platformer. It has a focus on exploration, improvisation and twisting the environment to your advantage. You progress through utilising your wits, reflexes and a plethora of abilities.
Procedural levels range from pursuing walls of toxic pollen to flooded passages lined with explosives to bosses spanning the entire labyrinth.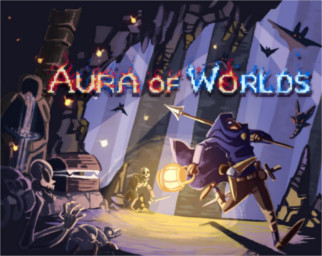 There are multiple solutions to every problem. For example if there is a lava pit blocking a chest do you..?
Lure in an enemy and bounce off its head.
Grapple rope across.
Use a boomerang to fetch the item from a distance.
Chuck a grenade in; destroying the pit and quickly setting everything nearby on fire!
Old trailer (2016)
Note: the game has greatly evolved since being greenlit

Some updated visuals: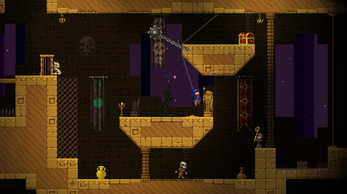 Why early access?
We intend to extend the game with feedback from the community.

Getting the game now; entitles you to all future updates; a reduced price and an extra key on Steam. Aura of Worlds has been in development since 2013 and has been refined from continual player feedback from developer meetups like IGDA and trade shows such as PAX. The game is in a stable state with over 60 enemies and traps, 3 procedural worlds, 8+ level themes and more. Content is still being added and feedback is welcome 😊.
If you have suggestions; please feel free to post them here; or in the comments section of the game page.
Where can I get the game?
Right >Here on Itch:
https://cognitiveforge.itch.io/auraofworlds
Related Links: