WESTLOUIA: LAST TRAIN TO PIVOT
Link to Main Page: https://whiskermidi.itch.io/westlouia
What is This?
Westlouia is a platform game where you take control of an otter named Garret Rapids, who sets out to use his ice powers to save his friends from freaky monsters. The game mixes old and new mechanics and design sensibilities to (hopefully) create a game that feels unique, and not like a retro-rehash.
This game was originally intended as a sequel to Westlouia Pilot: Through the Timber. (Pilot as in, like, first episode.) Over time I realized I didn't much care for the framework Through the Timber laid down, so I figured it'd be best to start from scratch like a lot of things do after their "pilot episode."
The story takes place in a region called "Westlouia," named as such for being a sort of "Wild West" where anything can happen. Apparently it was discovered by a guy named "Louie." I'd have to check the history books. I would have used a more mainstream-sounding name, but nothing else really stuck. Maybe I'll give it a cool subtitle. Something like "Secret of the Last Jedi's Awakening... Menace." Yeah.
Latest Vlog:
Jan 20, 2018 - I talk about some general features of the game in hazy detail. It's hard to do a first vlog. I'll try to give the rest of my vlogs more specific content.
Screenshots:

Our hero, Garret Rapids, about to set off on his first adventure!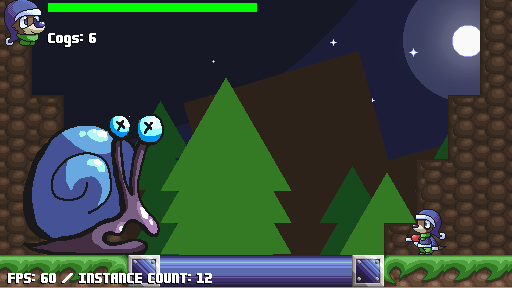 A hostile snail takes the otter lad by surprise!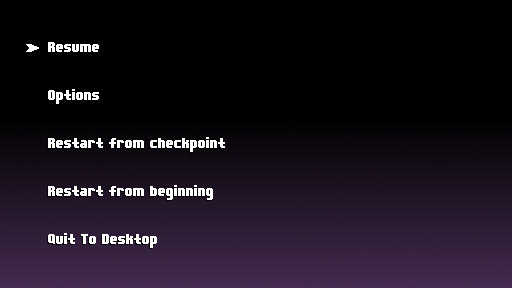 The game can indeed be paused! That's f u n n y .
Features:
Quirky characters in a strange, yet oddly familiar, world!
Use your ice gun to blast through mysterious monsters!
Dash through levels in style with your ice magic!
INTENSE options screen action!
Disclaimer: Many of the features are probably glitches
Where are We Now?
20 Jan. 2018 - Lately I've been working on a small demo for the game. This demo contains a short level and a boss fight. Hopefully this demo gives players a taste of what's to come. Feedback is appreciated. I need it. I'm desperate. ANYONE. PLEASE. Well, when the demo is out, anyway. That shouldn't be too long now. All that's left now is a bit of polishing up on it.
Now, as for the rest of the game, this'll be interesting.
Thanks for your time!
Edit 20 Jan 2018: Fixed up formatting a bit. Then fixed it again. Then again. Then again. And again. I also changed the title in hopes that no one would notice.
Edit 27 Jan 2018: Changed the title to reflect the actual title rather than the working title.