Creator of
A humorous and precise platformer with controls so simple they are in the title!
Platformer
Recent community posts
Howdy. Thanks for stopping by to see what this nonsense is all about.
Run Jump Rabbit Turtle, is my first game and I decided to do an early launch on itchio before its Steam launch.
The way itchio and its community accommodates indie's made me want to put it there first and unannounced.
You can check it out here: https://badwrong.itch.io/run-jump-rabbit-turtle
Be ready for stupid puns and jokes: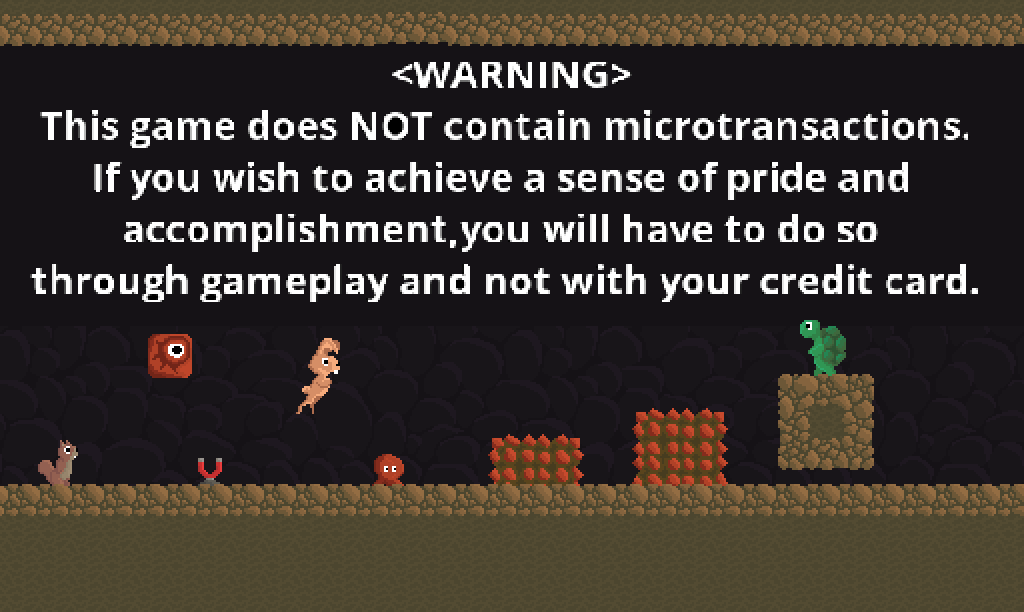 680k downvotes = funny
So far the game has been well received by reviewers and players:
"The game's simple bean and kiwi system make each level playable in different ways for different objectives, thus giving the gamer more content to play though and objectives to complete. But most importantly, as a platformer I know it's well designed because it pissed me off. The little laugh from the game every time you die, the learning curve that came with each new level – it's all phenomenally well done for the genre."
- https://doctorsofgaming.com/2019/05/run-jump-rabbit-turtle-review/
More about the game:
The Monkey Wizard has combined Rabbit and Turtle into one of those new designer hybrid animals to work for him. You know, like a puggle-- but with more shell and buckteeth. In order to traverse the dangerous cave areas and collect the magical kiwis for the Monkey Wizard, you can seamlessly morph between the fast nimble rabbit or the slow defensive turtle.
Race to collect magical kiwis before they are rotten.
Converse with and maybe(?) help other animals working for the Monkey Wizard.
Find secrets and bonus content, no microtransactions required!
A satire filled journey through dangerous caves where the 4th wall isn't just broken its annihilated.
Finish the game with 3.5 different endings...
"Speed Run" mode available.
Optional "Easy Mode" that can be toggled at any time... and for those who don't approve of that, an unlockable "Git Gud" mode.
At least one character that is wearing pants!