I already posted this as a response to some people asking, but a lot of people probably wouldn't see it. So, I have decided to make a new post
I am using a Acer Chromebook 14

(It took me 6 + hours to figure everything out and write it up, you're welcome)
There are 2 ways you can do this.
1. Install steam with linux (search it up it's really easy) and play the laggy version
It is also worth knowing that you cannot get the true ending, as 99% of the time you "browse game files" will not work. (It's been a recurring problem on steam)
2. The long way. But trust, me, it barely lags (compared to the steam version at least) and you can delete your game files.
note: if you want to check whatever your doing, use ls -algs

A. Download ddlc-win.zip from this website (microsoft/linux version)
B. Click on ddlc-win.zip. This should be in your download folder. A new zip file with titled ddlc-win.zip will appear on the bottom, with a box and squiggly symbol in the middle.
C. click on the only folder, DDLC-1.1.1-pc
D. a new subsection should appear beneath the the file mentioned in step B.
E. Copy it, then paste it into Linux Files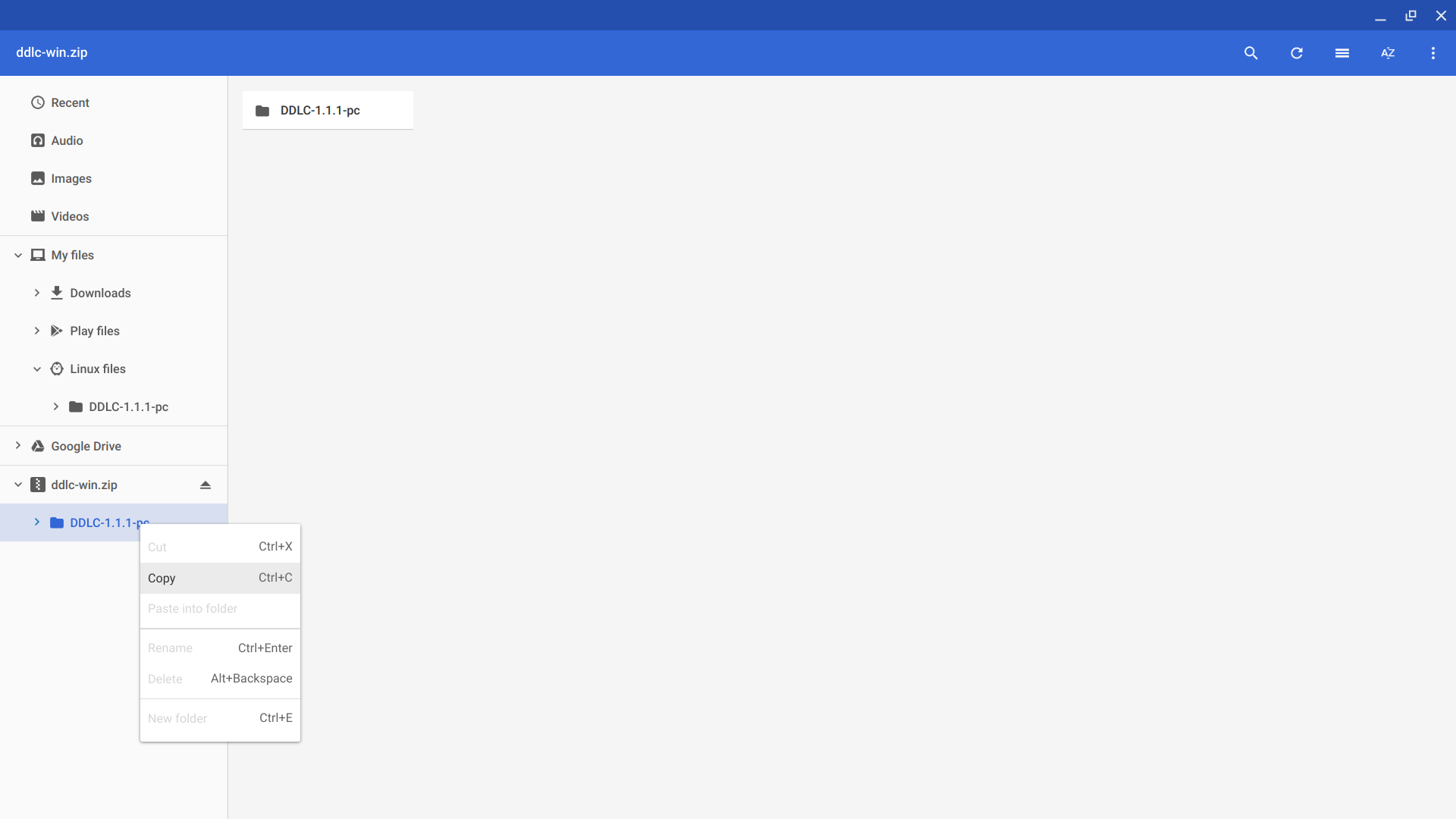 F. Open linux, type in chmod 777 DDLC-1.1.1-pc (this allows you to execute, read, and write it)
When you press enter, chmod should just go to the next line w/out, on the surface, doing anything (you can always check with ls -algs)
For the next few steps, just follow them. I'm too lazy to explain them :p
G: type in cd DDLC-1.1.1-pc
H: Now, type in chmod 777 lib
I: type in cd lib
J: type in chmod 777 linux-x86_64
K: type in cd linux-x86_64
L:type in chmod 777 DDLC
M: type in cd ~
N: type in cd DDLC-1.1.1-pc
O: type in chmod 777 DDLC.sh (this is the file that will hopefully run your game)
P :type in ./DDLC.sh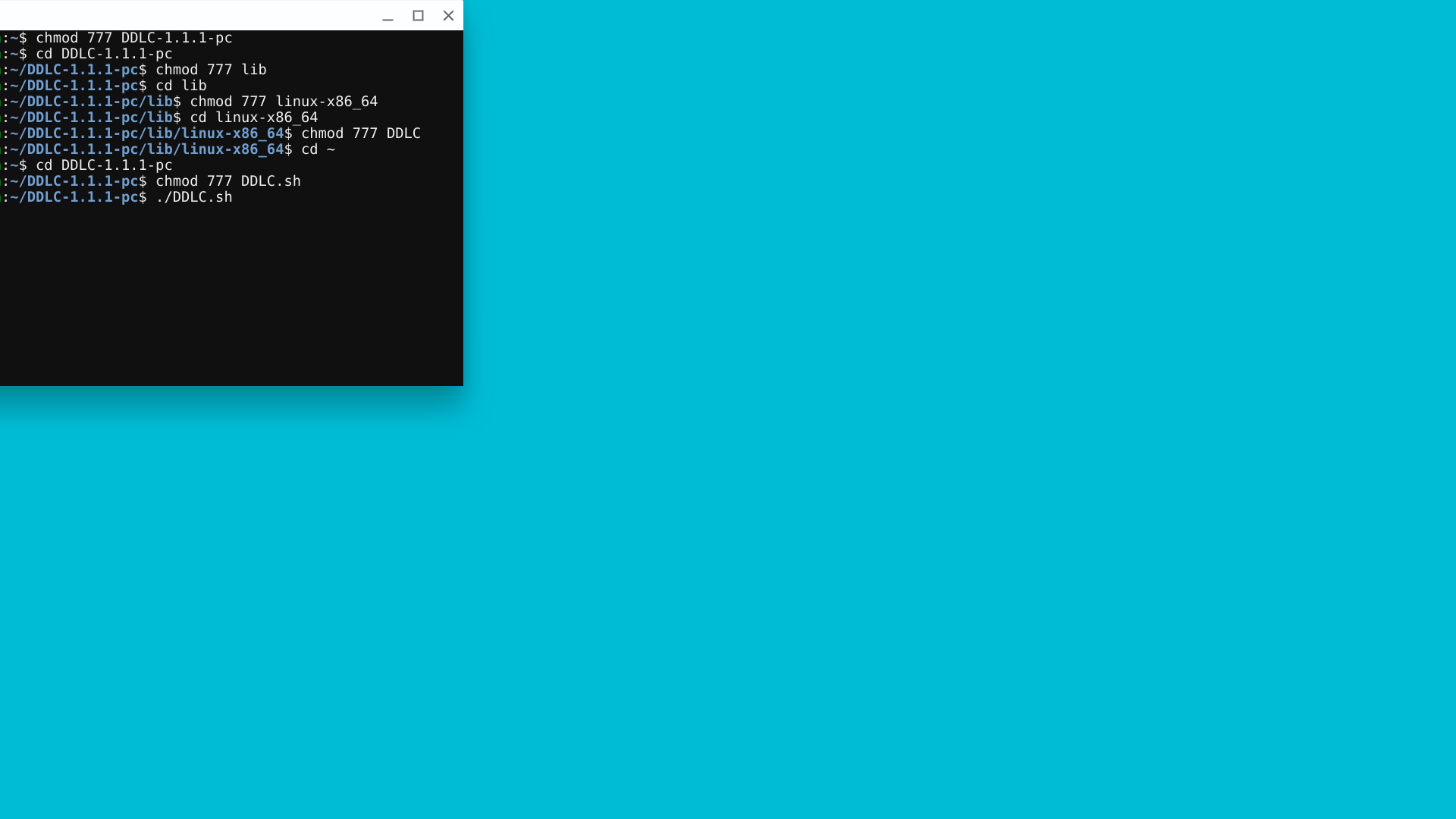 Q: Wait a few seconds, game prompt should pop up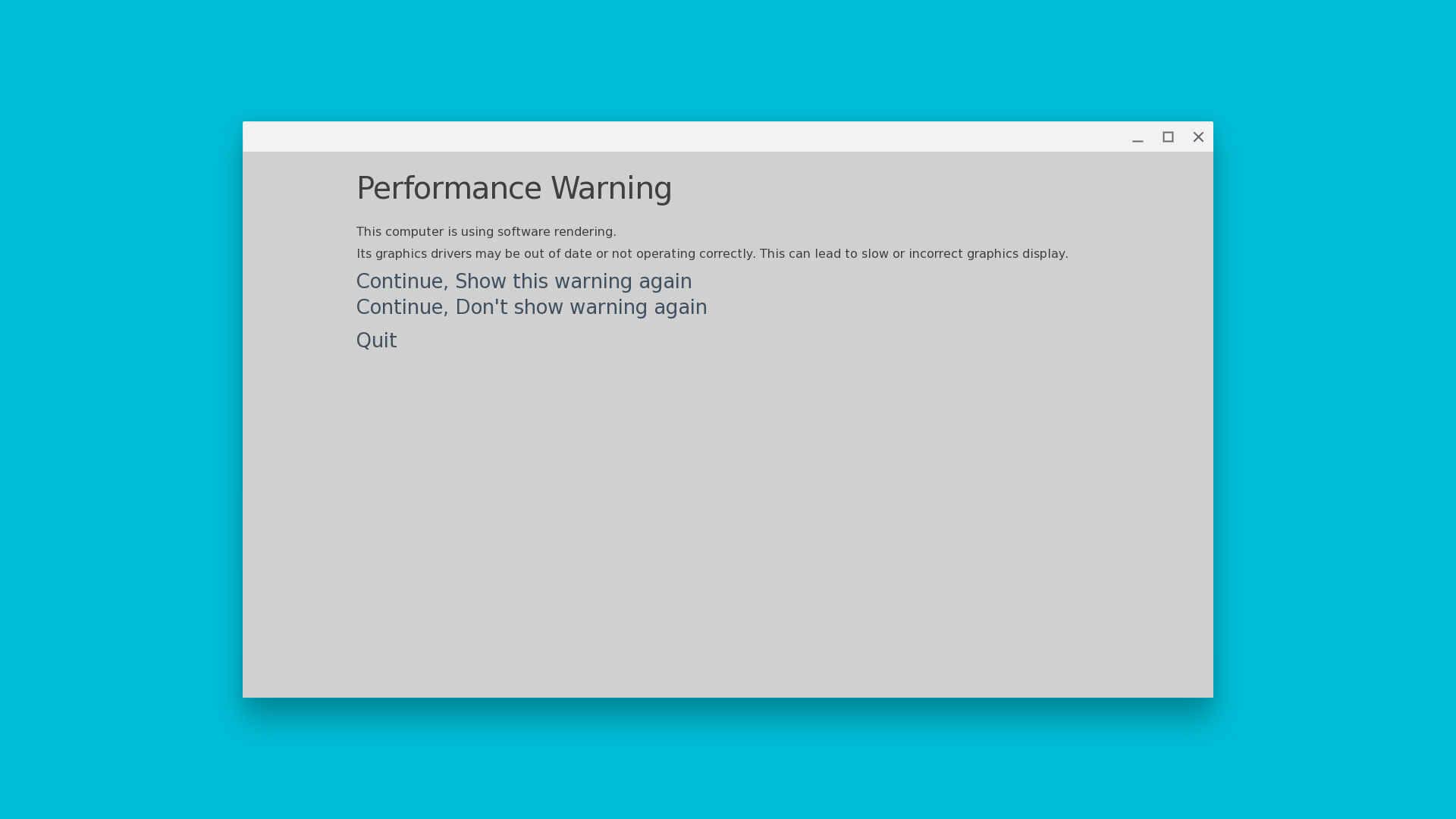 R: Click Either: the first or second option. (second option if u don't want to see the performance warning each time you boot it up)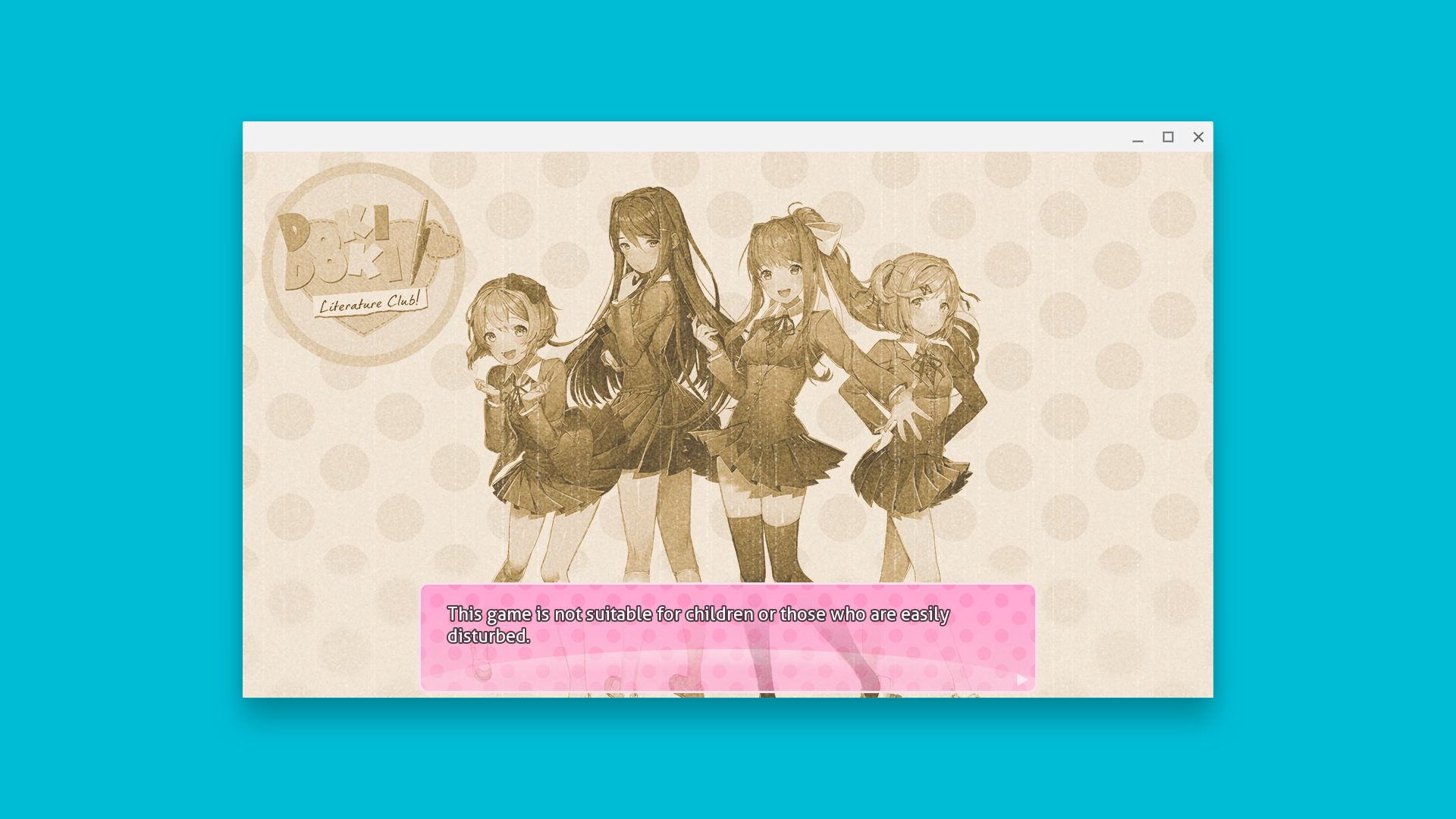 S: You are now in the game!
T: To boot it up, type :
cd DDLC-1.1.1-pc
./DDLC.sh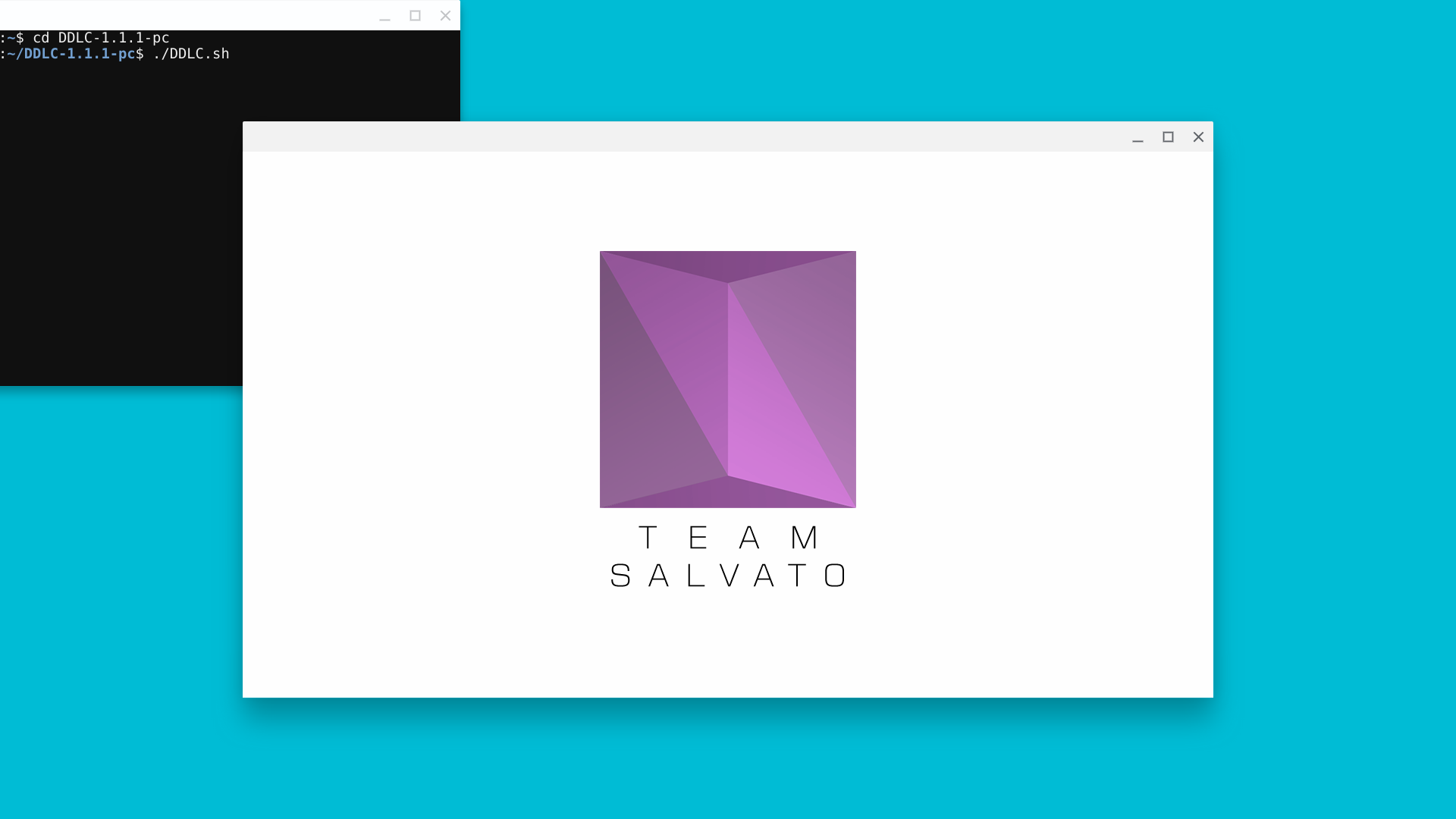 Ń̶̡o̸̗̓ṯ̷͊ȅ̴͖:̷͇̿ ̶̤͊t̴̰͝h̴͓̒è̶͈r̸̺̀ė̵̲ ̶̻͊a̷̤̓r̷̰̍e̶̡̊ ̷͖̈́d̷̬͆e̶̡̔f̵̨̒i̴̝̓n̴̤͆i̶̩̊t̴̮̀e̶̝̊ľ̸̡y̸͇̏ ̸̞̽m̷̗͠o̴̞̽r̷̝̊e̷͓̓ ̸̣̃e̵̦̓å̴̠s̸̨̈́i̷̱̇e̷̝̽r̸̳͂ ̴̝̄w̵̯̔a̴̧͠y̷͕͊ś̴̞ ̴͕͒ṱ̷̏o̸̤̽ ̴͚̈́b̵̩̈́o̶͇̊õ̷̩t̶̫̒ ̸̮̇ǔ̷̺p̵̨̓ ̶͇̎t̵̥͘h̴̛̻e̵͚͝ ̵̀͜g̸̪͒ä̶̗́ḿ̵̭e̴̝̓,̶̞̈́ ̷̰͝b̵̭̽ú̵͍t̴͇͋ ̶͉͌I̸̡͗'̸̰̐m̵͖͗ ̴͉̈t̵̯́ơ̴͔o̸͚͘ ̵̘̅l̴̹̈́a̵͕͝z̵͉̍y̸̛̩ ̸̺̍t̷͙̿o̶͔̎ ̶͙̃g̷̳̅o̸͉͌ ̸͇͐a̸̼̓ñ̸̖d̴̜̆ ̸̭͊t̶̠́ř̸͙y̸̲̌ ̵̪̒t̶͙̀o̵̻͑ ̶̤͝f̷̯͆ì̶͇n̶͉͌ḓ̸̅ ̶̯̓t̵̛̻ĥ̷͜e̸͉̽m̸͎̚ ̷̑
g̴̛͎̣͓͔̟̲̜̓́̌̄̀͝͠͝ͅo̷̪̱̔͋̍͛̑̚͠ö̸͙͚͇̥̯͚̦̖̭̦́̈́̽̆ḓ̶͈̥͌͗̓́̊͗̚ ̵̧̡̧̢̬͖͇̼́̈́͌̌̈́̃̈́̍̽͂͑̈́͊̄͠ļ̶̨̨͔͕̏̿͆̀̓͗̍̈́ͅu̸̡̫͉͎̝͉̚c̶̢̣̰̻̼̮͉̼̘̦̱͋͝ͅķ̵̳͍͕̈̾̃̿̌
k̷̡̢̡̛͎͈̠̘͇̏̈́͊̀̌͑̐̈́̈́̒̋̽̅̌̍̉̊͂̍͊̎̈́̃̽̂̋͐̈́̄̿̀̔͠͝͝i̵̡̡͎̩̲̼͇͉͖͙̫̥̲̣̞͑͂̾̈́͆͂̑̈́͛̇̓͌͜͜͝ĺ̷̨̢̧̢͉̟̭̝̜͔͕͖͖̺̪̹͇̦̳͓̠̤̏͑̇̾͌̽̆̈͗̅̍̐̈́̏͊͆͆̊̔̑͊͊̅̆̒̀́͌̂̐̕̚͜͝͝͝ļ̵̛̛̛̳̜̬̠͉̜̱͓̩̩͇̗̖̰̺͚̞̱̤̻̲̗̠̤̭̞̳̠̘̈́̍́̂̓͂̌̊͛̈́̊̆͂̏̓̐͋́́́̌͌̉̇͊͌̈́̑̓͝ȩ̸̡̻̗̝̺͓͉̤̜̹̯̈́́̿̿̀̔̓͒̇̅̓̀̍̋̿͂̒͋́̂̓̽͒̕͠͠ͅr̵͙̥͔̥̥̬̩̭̜̘̣̯͚̯̩̭͖͚̪͔̺̄̈́͑w̵̡̛͔̠̯̙͎̥͎̳̯̪̝̤͚̲̼̜̬̣͖̉̈̀͌͆̏̆̀̊͋́̌̋͊̈́́̄̓̒̄̒̀̀̓́̏̃͌̏̾̈́̕̕͘͜͜͝ͅh̷̡̧̢̡̢̡̳͍̩̫͖̞̠̞̤͉̠̞̺͙̙̖͎̹̞̠̺̥͓̫̹̉̐̌̂͑̓͐̒̓̀͋͌̂͒̿̈́͑̌̂͘̚͝ͅä̷̢̢͇͇̼̼̬̗͎̲̖̬̠̼͇̟̱̱̥́͑̾̈́́͒͛̀͆̂̑̍͋̀́͗̃͋̃̃͑̍́̓̓̂̇͘̕͜͜͝͝͝͝ͅͅļ̶̧̧͍͙̝̙̤͍̲̳͎͉͇͚̝͔̙̻̼̙̳̥̘͎̥̥̮͂̑̾̉̏̌̉̿̔̀͒͗̔̿̽͂͛̀̕̚͘̕͜͠ͅę̶̖̗̰̲̺͕̟̜͉͓̿̅͐̇̾̾͑̊͆̈̐̄̉̿̕͠͠͝͝͠j̵̡̡̮̦̣̦̗̫̯̝͑́͒̀̋̈͗̈́̏̉́͗̽͗̉̀͆̓̆̏̿̇̋̀́́̚̚͘͝͠ͅa̸̡̨̧̛̛̠̹̖̮̝̻͙̘͉̼̯̙͉̪̝̝̲͔̠͗̃͛̿̀̑͒̾̀̃̃͆̈̽͂̄̽̍̊̏̓́̈́̎́͝͠ͅm̵̨̡̠̥̜̝͎̣̝̺̫͕̻̭͉̞̱̳̟͇͎̎͒̅̈̐̇͌̎͒͗͂̈́̃̾̌̿̏͜͝ę̶̼̯͉̩̝͕̹̫͎͓̠͈̟̭̤̩̙͈̼͚͓͓̤̩̼̞̲̯̓̃̒̍͜ͅŝ̸̰̪̰͔̩̘̤̳̲̘̞̺̈́͑̈̅͐̋̕͜ͅ