WHAT IS THERE ON THIS ITCH PAGE?
- a lot of efficient, even mobile-friendly 3D assets, both .FBX and .OBJ, with UV maps and textures, including contemporary interior objects, suburban/urban street details, and nature objects [trees, bushes, grasses, wildflowers, ferns...] across multiple types of outdoor settings.
-VFX elements and video overlays for use in videos, cutscenes, etc. Explosions, fire, smoke, debris bursts, water FX and other elements. Much of it is real-world photography at high speed against a flat black or blue background for easy compositing.
-2300+ texture image files, across well over 600 total materials, seamless PBR materials based on a wide range of real-world photography sources.
-some free assets in the mix too, including a snow overlay, some digital explosion FX, and horror/blood assets. More free assets likely to arrive soon - there are some free 'seasonal' objects there, for autumn, and while that's currently a freely-downloadable subset of the Forests & Flowers paid asset pack, it will be expanded at some point to become a free standalone pack of multi-holiday decor/details.
-a few pages relating to indie games in development but they're generally not quite ready for release yet. Most of them are likely to go live on Itch within the next 9-10 months if everything progresses as planned. Some maybe as early as this May, and I'm hoping that generates a lot of activity once it happens. Some of the games will have demos [some features limited but still playable] or free versions with all features functional but some ads placed on the menus.
-several teaser pages for additional asset packs due to be released between now and fall 2023.
WHY IS THIS BEING MENTIONED RIGHT NOW?
I'm about to launch another one of my ridiculous bundle sales. St. Patrick's Day sale, 93% off bundle of everything I have here.
So $2.27 for 3000+ asset files with more on the way over the rest of this year. Other sales will exist around the year, mainly during holidays.
ARE THESE BUNDLES ANY GOOD?
I've made around a hundred sales of asset collections and/or bundles to date between Itch.IO and Etsy and while most people who buy these don't take the time to post feedback, when they do it's usually very positive. I figure this is just the start - the more positive comments and ratings accumulate, the more people will be willing to make the choice to buy, and this could finally snowball into a much bigger thing.
More feedback -> more sales -> more resources to create more, better updates and additional assets -> happier buyers -> more feedback.
I'd really like to expand all of this dramatically over the next few months, and I'm putting a lot of work into making even more asset content, based on the hope that eventually the effort will be profitable or at least break even, despite the low pricing, simply because a lot of people are interested. I'd like this to be a full-time thing and would love to finish 2023 with thousands of new additional assets created, and a bunch of long-awaited indie games released.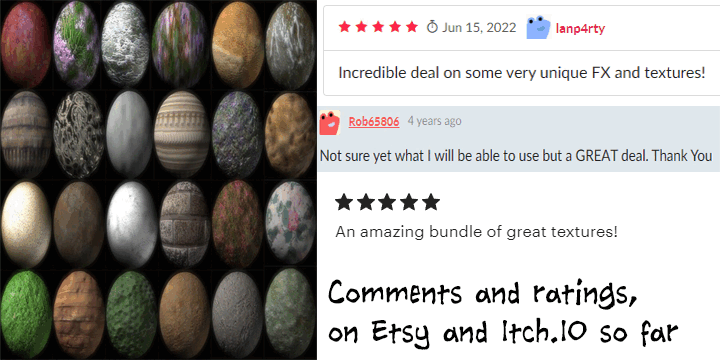 And I get the sense that many people ARE really interested even if most viewers have not made a buying decision yet. I've seen over 100,000 page views on my Itch analytics, since the pages began opening in early 2018. That's thousands of people visiting, and visiting repeatedly, opening multiple pages per visit. Thousands of downloads, especially on the free asset packs.
So I'm thrilled by all of that, and I'm excited about where this could be headed.
Thank you all so much!