Welcome! I am Yawning Fox, an indie game developer just trying to find a place in this large, bustling industry. While I've been working on this game for a long time, started 2 years ago, but then stopped and restarted it from scratch. Currently I am the only developer, but I hope to have one of my music friends help me out in that department. Now, Severed Tales is a game all about speed and action. Because it's 2D, I've been doing little things to keep it interesting. I can't give all the details, as I don't know if I will add them all in, but I do hope you all look forward to my game.

Also, because the game is still developing somethings will probably upgrade, change or who knows what. However, feel free to ask me questions. I absolutely love talking about about this game.

Description
Severed Tales is a game about a fox named Merlin. She is joined by her teacher and must explore the land they are given. With the instructions of the teacher what kind of tale will you go on? Not every trip is easy going, something lurks in the shadows. Will you be able to help Merlin overcome this evil in this speedy action momentum based game play? Along the way you will meet many faces. Different races, creatures and most importantly; friends.
Videos

Screenshots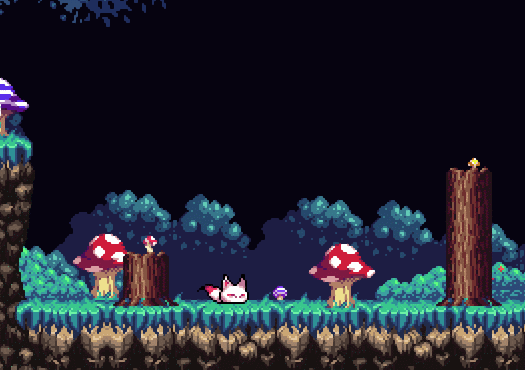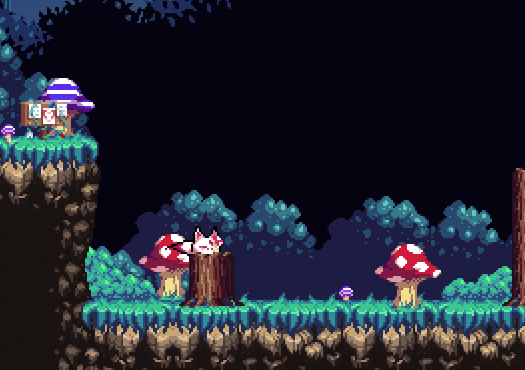 There are more gifs, but with the limit I will have to resort to shorter captures.
Features
Pixel art with smooth animations
Thanks to Merlin's small size she zips and nyooms around giving for speed based gameplay
Multiple endings
Collectables
Mini-Metroidvania style: Areas don't branch off as much as to keep it to the story
Secrets
Links
Twitter: https://twitter.com/TheYawningFox- Where I update far more frequently.
Tumblr: http://yawningsfox.tumblr.com - Where I also ramble a lot and sometimes reblog other creator's stuff.
Demo:
Later on when I am further along. I don't even have music or sound effects yet.