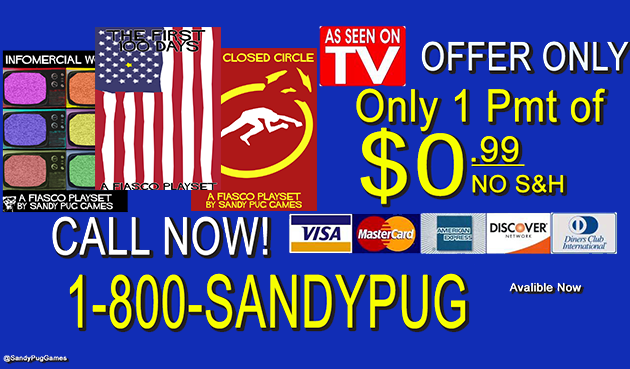 Hey Folks, Sandy Pug Games is a Tabletop RPG design group that has been making cool stuff for about a year and a half now, and we've recently launched here on Itch. What a wonderful community and marketplace it is! We'll be uploading more of our work in the coming weeks but for now, I thought you'd all enjoy our Fiasco playset collection, which is Pay What You Want right here:
https://sandypuggames.itch.io/sandy-pug-fiasco-playset-collection

The collection includes the dark-horror-comedy set Infomercial World, where you and your friends find yourselves awakened within the nightmare that is late night infomercials. Nothing works, you can't do anything right, and these suburbs have no end in sight. Also included is The Closed Circle, a murder mystery playset designed around the trope of a closed box mystery - the killer is among you, no one can leave, no one can enter, will you solve it in time, or are you the killer, and will you get off scot free? Finally there's The First 100 Days, a political comedy set about playing out the first 100 days of a particularly wobbly presidential administration. Will you ride the sinking ship into the ground? Foster Revolution? Hell, will you make it work?
Fiasco, for those who don't know, is a fantastic small GMless RPG designed to create Coen's Brothers-esque situations and stories, published by the fantastic Bully pit games. It's one of, if not the best party style RPG systems out there, and I highly recommend you check it out, even if the above playsets don't grab you!