Hi i'm Krazy Gamer, creator of Crazy Guys: an open world rpg for PC (Windows, Mac and Linux). I work on this game since 2011 and on GameMaker Studios since September 2016.


What is Crazy Guys ?
Crazy Guys is a game where everybody are crazy because of their applications who have completely farted a cable from an "Alien Attack" and infested of "Virus", terror spread around the world causing fire and blood.
On this game: Humans
cohabitate with extraterrestrial races
And now... The fate of these applications are now on hands
the hands of crazy guys !
The game have too an large sens of humour !
Characters Playable:
On the game, you control a party of 4.5 characters on your journey for save applications, more playables characters are planned to be on whole game.



Big Face
Big Face have a big face *battery* uh anyway...
It's an Emoji
who like look retards videos, he's the craziest guy of the band, he like wreck everythings he sees, seduce all girls that he sees and believes that Godexists...
He's mostly the guy the most retard in the world and he knows the fight.
Doodle
Doodle is an green alien with a big mouth who
had a colossal force for to carry a huge bag.
He eats anything and everything but sometimes he spits out what he ate to send it to the other corner of the universe.
On the game, he's inventory manager and someone of reliable.
Diabo

Diabo is an daemon who likes barbecues and fight, burn everything and he likes watch some horror movies.
On the game,he have a watch
which allows him to indicate the hour and the day that is it (hour and day will be important on the game).
Smile
Smile is an emoji
like Big Face, he's an romantic and likes play some games on his computer and
he stays there for several hours.
He's the most clever of the band and he gives some tips about fights and cooking on the game.


Octet
Octet is an phone who accompanies the protagonists while their journey.
More intelligent than Smile, he can teleport his friends and himself to a checkpoint if it is recorded on is registre. He can too aspiring his friends to send them to another world
(I will not spoil more)...

Bourg Town: It's a town where all races cohabit together without racial discrimination.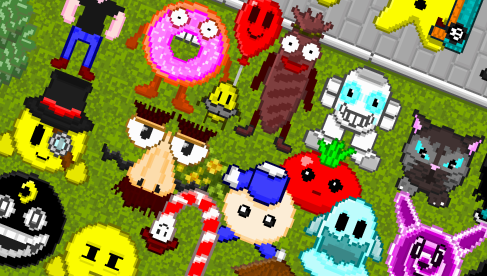 The city is composed of an urban zone, village zone, farming zone, forest zone, beach zone with pyramids, commercial area, an park and many other places to Bourg Town.

Village Zone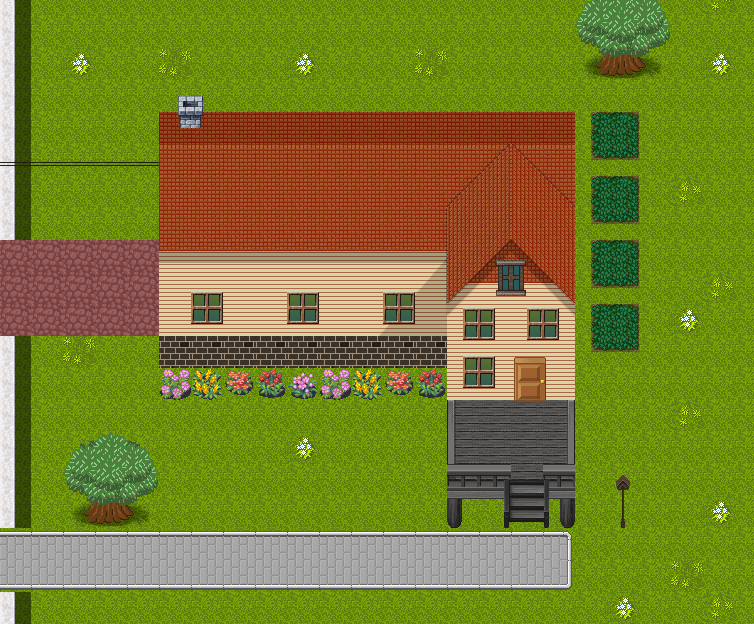 Beach Zone:




On The Game, the total size of Bourg Town is 20000 x 20000 (32x32 for tiles),
Bourg Town will be fully open and visitable.

What can you do in Crazy Guys:

-Pick up foods
-Cooking Dishes
-Drive a car and a motorcycle (for go faster)
-With Octet's help, travel in other worlds
-Each playable characters (except Octet) have hammers which can be used in combat
-Jump everywhere
-Play Mini Games
-Unlock playable characters
-Listen music on Sound Library
-Possibility of seduce (Idea by Big Face)
-Buy strange powers
-Explore dungeons
-Many other functions amazing...
Inspirations: Crazy Guys is inspired of Mario & Luigi series, Pokemon Mystery Dungeon series, Earthbound and Undertale.
The battle system is an fusion between that of Mario & Luigi and of Undertale with rogue-like phases and shoot'em up phases.
The game's inventory and picking up food and then cooking are inspired of The Legend of Zelda Breath of the Wild.
The Humour and the logo are inspired of Family Guy.
The freedom of visit is inspired of Super Mario Odyssey.
I don't have a development team and music composer but I intend to recruit for build a team for help me to do of Crazy Guys even more gigantic !
The demo of the game will be released on 2018 for discover Bourg Town whole.
And here's my Twitter, Facebook, Gamejolt and Itch.io pages:
Twitter: https://twitter.com/CrazyGuysGame
Facebook: https://www.facebook.com/CrazyGuysGame/
Gamejolt: https://gamejolt.com/games/CrazyGuys/223415