Absence of Law is a text adventure from the award-winning author of Color the Truth and Sherlock Indomitable.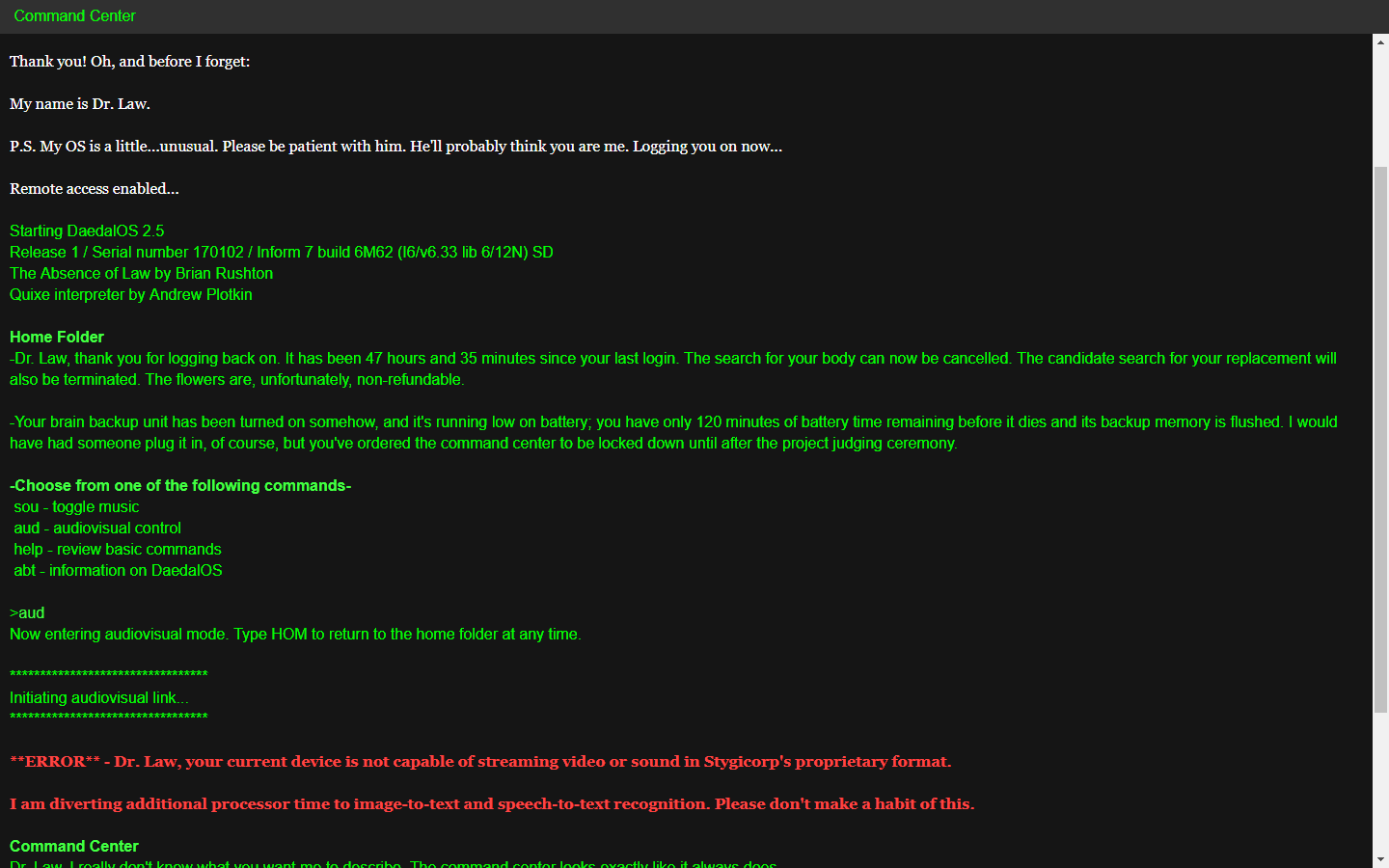 "Excuse me, can you help me? Yes, you, browsing itch.io! I need your assistance, but I don't have long. There's so much going on: remote surveillance, unauthorized cloning, forgotten languages, robots playing poker. It's time to take control!"
This game is designed to be accessible to those who have never played text adventures, while keeping a few surprises for parser experts. The online version comes with a complete musical soundtrack accessible from the first menu
Praise for Absence of Law

"This is an ambitious work: multiple levels of interaction, several shifts in player POV, lots of rooms, NPCs, and puzzles. Despite its size, it has been meticulously proofed and tested... A pleasure to play a game with such high production quality." 9.8/10, Jack Welch (Text Adventure author and critic)
"Are text adventures getting easier, or am I just getting better at text adventures? Absence of Law is the type of game, filled with techno-babble, gadgetry and mind-bending puzzles, that would have left me baffled and confused in the past. And yet, somehow, I was able to cruise through the bulk of this game with relative ease." No score given, Narrativium (a text adventure review blog).

"[Absence of Law] is fun to play, hard and soft here and there, and also very nice to read. It's a story that needs to be told, while keeping all the puzzles that make IF such a fantastic trip, when done properly. " 5/5, Marco Innocenti (Text adventure author and critic)
Trailer

What better trailer is there for a text game than a text trailer? This annual status report is a preview for the game.