SWINGER is as simple as games can be. Easy to learn, hard to master.
"Looking for a fantastic way to spend your time? Get ready to swing in a space-like tapping game Swinger. 10/10" -AlphaDigits
" From it´s colorful features to it´s challenging nature, you are in for a treat. 8/10 " - TheAppleGoogle
"SWINGER is the straightforward and addictive game you've been looking for. 9/10" - AppReviews.live
SWINGER is a small and simple game for Android.
Take control and swing around on a constantly changing play field where every move can be your last.
Immerse yourself into all unique and original, yet simple game-mechanics that SWINGER has to offer. Guaranteed to make your head spin and leave you craving for more!
Encounter obstacles and keep calm as you try not to die.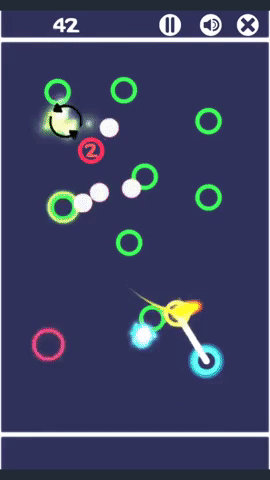 Master the controls and the game-play mechanics in order to get the highest score you can!
Perfect for those moments where you have to waste some time.
Do not forget to turn on the sound. The music and sound effects will blast you away just as much as the gameplay itself.
- Enjoyable, simple, yet challenging gameplay.
- Endless progression with increasing difficulty
- 4 different obstacles that will put your nerves to the limit as you encounter them in different, increasingly more difficult combinations.
- Awesome, simple , flashy and colorful graphics.
- Easy to use UI.
- Straight forward tutorial
- Many hours of fun , frustration, repeat :D !
Get it here:

https://pipipassstudios.itch.io/swinger-addictive-time-waster
More features will be added on demand !