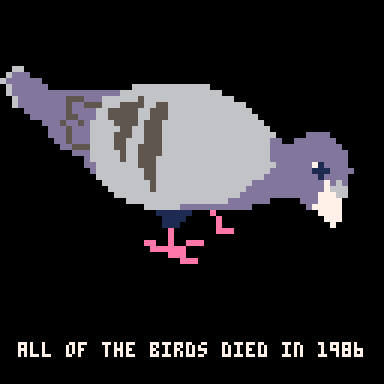 Hey everyone! I hope y'all are doing fine with the world being a mess. I had some time to put together a game in PICO8 this week, I had a blast making it. It's a small arcade game themed around a old meme where Ronald Reagan killed all the birds and turned them into spies.
In the game you play Bob, a recent government drone (pigeon) who decided to do whatever he pleases. He now just exclusively eats fries and shits on cars. Use X to propel yourself up by shitting, making sure to hit the cars below! Beat your highscore, and tweet it at me or leave it in the comments on the game page so we can see who's the best!
I hope you enjoy it as much as I enjoyed making it. If you do like it, please share it with your friends that like these kinds of things. A simple link share in your favorite discord would mean the world to me, thanks!
You can also follow me on Twitter if you like! You can also send me a tweet to let me know what you think of the game!