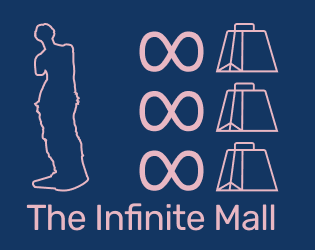 https://bruhstin.itch.io/the-infinite-mall
Hey all, just released my first TTRPG to itch!
The Infinite Mall is a make your own card game where you create and explore the stores of an endlessly growing mall on index cards. Keep track of your Savings and Distraction points while encountering the stores you made to escape.
This game is meant to be played alone and for you to share your Mall Decks with friends. The game's solo play aspect was inspired by how difficult it is to get everyone to meet up for D&D (cries). Feel free to share your Decks in this thread or on the game page!
Feel free to leave feedback on bruhstin.itch.io or on my twitter. Thanks for reading, and have fun!