Sale now begins a bit earlier than had been planned - April 10th, 2022 or 'Palm Sunday'. Palm Sunday to Easter Sunday 2022 or April 10-17*. </strong>

82% off individual asset packs, game preorders.
Over 95% off all items combined.
That is, just $1 for everything here.
Not $30... just one dollar for thousands of assets.
(UPDATE - sale has now ended - next sale is set for July 1-4, 2022 )
SOME ITEMS LISTED, ABOUT 30%, ARE ALREADY FULLY DOWNLOADABLE AND ENTIRELY COMPLETE, WITH NO FURTHER ADDITIONS PLANNED.
OTHERS - 30% - ARE ALREADY RELEASED IN AN INITIAL FORM BUT STILL BEING EXPANDED OCCASIONALLY. (RELEASED BUT UPDATES ONGOING)
AND SOME - ABOUT 40% OF THE LISTED BUNDLE ITEMS - ARE NOT YET DOWNLOADABLE AS THEY REMAIN IN ACTIVE DEVELOPMENT WITH ADDED POLISH, DEBUGGING, AND FURTHER ADDITIONS NEEDED BEFORE THEY'RE REALLY READY TO BE RELEASED.
So... this sale includes not only all the previously existing and already downloadable asset-pack releases (over a hundred VFX video elements, way over a thousand texture maps, well above a hundred 3d objects...), but also:

-some new stuff added in the 'furniture/interiors' asset pack [update delayed slightly but should still be posted before last day of sale]
-more PBR textures rounding out the 2020 texture pack [completed]
-the initial release of a '2022' texture asset pack which will be expanded periodically over the next year or so. [delayed - may not be done until near the very end of the sale]
There isn't much emphasis on a specific goal on this sale... whatever combined sum is raised, great.
The figure I once had here was less a complete goal than a realistic starting point, but the more is raised the faster I can complete all the games and new asset pack material I am working on. I still need another $800+ somewhere to do all of it. I know that, barring some unanticipated disaster, that remaining sum will soon be completely in place. (within roughly next 5 months.)
So I will note, I'm currently completely sure I can scrape that all together before end of 2022, the question is exactly how quickly, and whether the distraction of doing so will slow some of the releases down initially.
BUT I DO INTEND TO FINISH EVERYTHING SEEN HERE BEFORE END OF 2023, ONE WAY OR ANOTHER! Even if the sale here and others like it fail, I can now confidently announce the following:
All my game dev projects showcased on itch.IO can and - barring an unexpected catastrophe - will be completed and released by the end of summer 2023.
Expect a core release of Panoramic Worlds by early summer 2022. The 4k VFX pack also will launch early this summer.
Be ready for two new 3d packs (scifi/space and fantasy/medieval) by the start of fall 2022.
Prepare for Vivid Minigolf to be released by late 2022... and Miniature Multiverse plus all the minigames, by the end of summer 2023.
And then, consider that these might be overestimates. Some of this could progress about 20 to 30% faster in the best case.
IF you also want the upcoming Sci-fi and Fantasy and VFX packs when they launch?

Well... buy during this sale and you will now get those too. I am setting up new listings for all of that before sale start. 'pre orders' much like the partially completed but not-yet-released gamedev efforts.
So considering that as part of the value, really it is quite clear that the bundle discount is effectively about 96% off. Even omitting all items 'not yet downloadable in a completed form' from this, it is still over 91% off.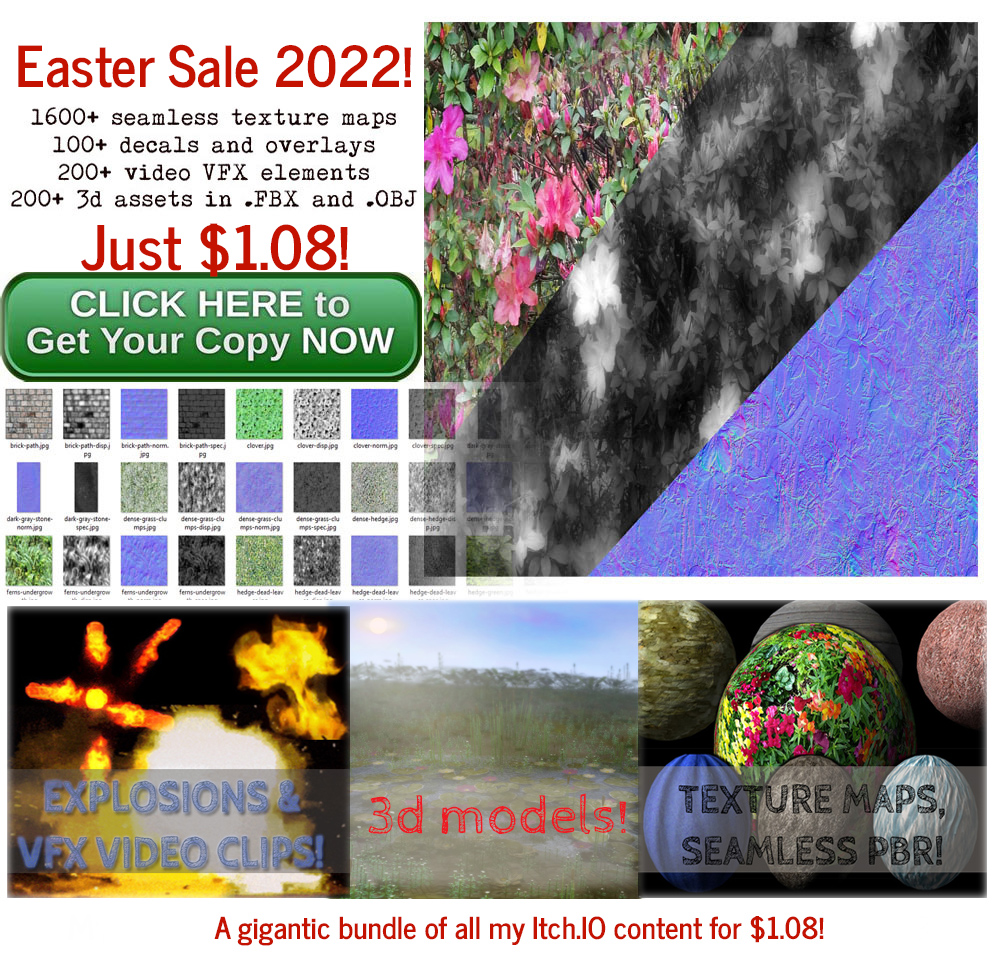 Now it is reduced even further. Not $1.08! Just $1!
The Etsy phenomenon and recent crazy complications:
Moreover, some issues with Etsy have recently emerged, totally appreciate that so many people bought things there, but it spiked so fast, so bizarrely and chaotically and uncontrollably, that I was truly struggling and unable to keep up and as of March 2022, am facing a loss there instead of any sort of monthly gain, just a lot of stress, hundreds of hours work, a lot of apologizing for delays due to being swamped with way too many customers suddenly, and fully refunding more than 15 people's orders so pretty fully lost all my earnings there for the month.
Here's a partial screenshot of the Etsy analytics that Etsy provides to every seller, a graph in terms of sales, orders placed. You can see exactly why this became a problem. Already it's just Spring of 2022 yet I made more sales in that first 3 months of 2022 on Etsy than the entire prior history of the shop combined.

The result for the past month, was that I pulled several all-nighters and had an emotional meltdown, subsequently set shop to 'vacation mode' for a while to have a chance to catch up... am raising all Etsy shop print product prices by around 10-15% now as it reopens so this should ideally, maybe make that work again and prompt at least some fraction of the possible printing service customers to pursue other shops with similar pricing.
Because as it was... I think I was the cheapest printing option anywhere on the entirety of the internet. I printed stuff for people and my earnings were 50 cents an hour at first.
Now maybe not quite the cheapest? I've raised all my prices on the print listings now and that frees up a lot of time moving forward while also raising likelihood of profitability there.
This decision, made just recently on reopening, seems to be stabilizing things nicely and slowing activity back down to a manageable level where I can - hopefully - better and more quickly complete each order and provide better service to each new customer.
I didn't even plan to be doing printing gigs, I intended to be an actual artist making video games and 3d content and paintings and video material and papercraft designs and a dozen other exciting things, but for some reason nobody apparently wants me to do anything creative for them - many people just want their flyers and poster images and such printed. Which means... that is what I did.
And though thousands of people have discovered the asset packs I posted on itch there have been few purchases and still fewer ratings, so of course it remains a challenge to explain why that is still such an ongoing focus for me. Maybe it is because I am porting much of it to Etsy and the Unity Asset Store over the next year so it might take off there even if not here.
I will keep building on that at a faster pace, especially if more people are buying any of it. I had one customer rate two packs here recently which was AWESOME but mostly there is still not a lot going on through Itch. Will keep trying here make more new 3d items and textures but it is... still a bit of a costly grind so far.
HOWEVER: I have had 100,000 page views between my profile on itch and all my Itch subpages, surpassing the 100k threshold as of this month. So I have continued promoting it for years and I did the same sort of thing on eBay and Etsy and in both cases nothing happened for years on end and then EVENTUALLY once I set prices absurdly low, like mere cents on eBay, someone bought, rated a thing that was shipped to them at loss, and then again and again, it happened faster and faster and faster. And nobody bought stuff when it was dirt cheap, they only bought, everyone bought suddenly and excitedly in a gigantic surge AFTER prices doubled or tripled or quadrupled, or went up tenfold. Etsy... a shop I run that is doubling the frequency of sales every 100 days. Like, doubling ten times in a row, going from years of absolutely no sales at severely underpriced prices to multiple sales made daily at vastly higher pricing that has to be raised 2-4% every single month and that still kept exploding exponentially even then.
And it makes me realize just how clueless my customers have acted so far, because they never actually seem to think about the merits of buying amazing stuff when it is extremely cheap, they only buy in a venue after the prices are climbing WAY HIGHER, value way lower, more delays, more mistakes in customer service on my part. People buy after there's a track record on a given shop, after there are dozens of positive, even ecstatic reviews of a shop and its contents. They do not buy things with few prior reviews but with my work...THAT IS THE BEST TIME TO BUY SOMEWHERE FROM ME BECAUSE THE PRICES ARE SO INSANELY AND EMBARRASINGLY SLASHED!
So... I have accumulated 410 ratings - 100% positive - on eBay as seller, but at near the 400ish mark that hit a crisis and slammed to a halt in early 2020. Because there was far too much activity and I felt thoroughly unable to keep up. All those sale listings were suddenly pulled and gone. They were just becoming too popular to continue existing.
I've pulled in 75 ratings from customers on Etsy, again, all of them glowingly positive, only to be just now hitting a wall once again in early 2022. Again, that too just hit a crisis - faster this time - where all these custom orders began flooding in very, extremely, rapidly all at once and I now suddenly couldn't keep up with the sheer number of people trying to buy from me.
I like Itch.IO as it will not hit a wall as suddenly (probably?) when it surpasses a couple dozen buyer ratings and suddenly explodes on a ridiculous and almost dizzyingly vertical exponential curve - I think it will boom but digital automatically delivered products are a different type of thing. It doesn't trigger sleepless and stressful all-nighters, I hope, if 10+ sales occur daily I can keep up if the sale items are digitally, automatically delivered! I could still keep making new collections! Maybe way better and bigger ones! This could be the same as my past outcomes on eBay, Etsy in the sense of... taking off like crazy because I have a library of great stuff at low cost. But it could also be different because of its longer run of sustainability in the event of a success. So I really am hopeful that this third attempt at a runaway success is the one that works out.
If this profile on itch soon has 3% of current visitors buying something, like my Etsy now has, that is thousands of buys. That funds things such that the rest of 2022 sees way more updates, more new content (games as well as asset packs) than posted here the past five years combined... right now here, it is 100k visits, about 50 total orders, two five-star reviews. Just watch what will likely happen by the end of 2022. It has now happened twice before and it is totally, idiotically predictable. Years of prices slashed, yet not a lot going on seemingly, followed by a first rating or two, normally followed by accelerating exponential growth. Both prices and sales escalate extremely fast, once that gets going. Eventually a crazy public frenzy that is so gigantic it maybe throws things into a crisis.
Prices will begin to go up gradually here as that plays out, and hundreds then thousands of orders will, I bet, emerge as that happens, pretty much proving my point about the idiocy of this recurring 'social proof' pattern I have run into every place I have ever sold anything: Early adopters who jump in during sales like this, you are so astoundingly smart. 99% of people, not as smart. Most of you will jump in later, as a crowd, almost all at once only after the discounts have become way way weaker than they were at the outset.
Which are you?
Because with eBay I understood the tendency. Etsy somewhat less so.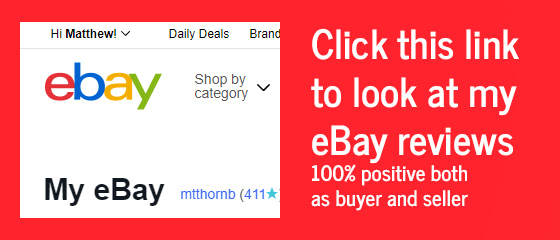 And Itch? Now it is clearly a predictable pattern and you can actually see the past arcs of activity on eBay and Etsy links and the sheer number of things seen and posted on other places like:
https://www.pinterest.com/matthewhornbostel/_created/
https://twitter.com/matthornb/
http://www.miniaturemultiverse.com
http://www.panoramicworlds.com
and clearly reach the conclusion:
I am Matthew L. Hornbostel. I offer solid, creative, even excellent stuff sold at very underpriced levels but am also an emotionally unstable person who has been unofficially blacklisted from most normal jobs due to mental illness [autism, OCD, clinical depression...]. The result in my case is my possibly desperate, deranged willingness to work very hard to help buyers, often accepting pay rates far below minimum wage. It is always that way, it has always been too good a deal to be sustainable. People walk right past, so to speak, every time. Until there are early adopters who are floored by the stuff I'm selling, and then it flat out goes crazy huge all of a sudden.
Jump in now. Seriously. This $1 sale is the best deal I've had in years and easily the best I will have from here on out. It is about $29 worth of game and asset-pack content bundled for a dollar.
And if the past patterns apply, this shop on Itch.IO won't stay the way it now is for much longer. [an obscure thing]
The floodgates are about to open...
Oh, and I agree quite clearly now:
If this sale raises over $100, I will donate 10% of that first hundred ($) to some well regarded (mainstream) medical/humanitarian and relief causes within two weeks of sale end and will post receipts to verify it to you all publicly.
and then 20% of any additional sum raised from $101 up to $250,
30% of any sum raised by this sale from $251 up to $500,
45% of any sale sum raised from $501 up to $1000.
And, finally, 60% of whatever sales value continues to occur beyond that.
That - 60% - is nearly all of my sale earnings above $1000, by the way, once transaction fees and the cut I give to Itch are removed from the value.
I don't know if even the first of those goals will be hit, but it is an Easter sale and I want to do some good in some slight way with this instead of merely entirely exploiting the occasion for my own purposes.
Plus I figure above a certain point, more cash won't do much to speed up the things I am working on here, So I figure it best to give it to people who really need my help.