CMON AND SLAM, AND WELCOME TO THE JAM
7/5/2019
I admit I started a wee bit early --
I wrote 860 words and coded 2 pages of the script. Made a couple of key plot decisions and wrote some content for the first love interest.

Here is some concept art and a first draft WIP of the AI's creator, who will probably be the most used sprite: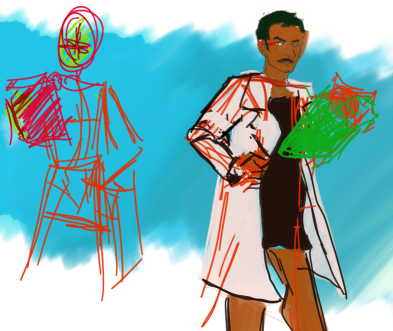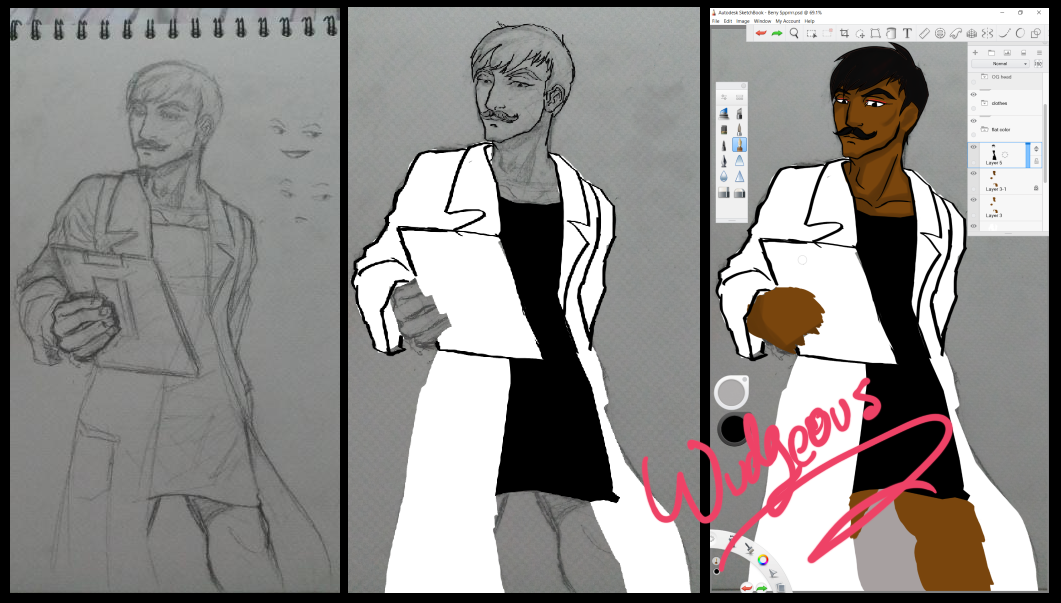 Considerations:
To-Do:
>It's my personal artstyle. I wonder if the game would benefit from a softer, more cartoony style.
>Experiment with line color. It doesn't have to be solid black.
>Move his arm+hand to interact with his clipboard/tablet. As much as I enjoy him putting his hand in his pocket with that sort of laissez faire relaxation, it's not terribly apparent.
>Finish line-art and color. I'm fairly set on the lineart thickness; need to decide on coloring style. Don't forget highlights.
>Add different expressions, such as "regarding the player fondly," "unimpressed surprise," and "self-congratulatory smirk."
>Animate some blinking on the man. A "talking" animation would be cute, but probably a stretch.
Character inspiration: Dorian Pavus and Mitch Grassi.
On another art-related note, I spoke with our lovely GUI artist Jaeger for close to an hour, discussing possible themes for the game. I absolutely appreciate her time and friendship. To ensure we were on the same page, however, I put together several files in my google drive of other ren'py games and their individual assets. I named and numbered them with care. This is to illustrate the importance of each asset, with the GAMEPLAY screen's GUI taking the highest priority.
I sent a message to our very talented composer Natis to discuss how we'd like to proceed with the musical score. I have worked with many artists in the past, but this is my first time working with a composer!
Self-evaluation: I really wanted to take a more organized approach to this project.... I feel like I'm on top of things in regards to communication (boy I was not expecting a team l o l), but in personal tasks I'm still all over the place. We'll see how well I do overall. <:)
I will say: Writing about my tasks here helps me "put them down" and re-focus on other things that can use my attention. In order words, it helps me overcome my often paralyzing executive disorder.