Thank you very much for your thoughtful feedback, Emmy. I am happy you enjoyed the experience, the basis for RoboVDino, and my presenting it! I read through your suggestions, and wanted to let you know how they fit in, since they are fun, consistent, and great ideas. I plan on updating RoboVDino after it releases and as long as players are still playing. Suggestions like yours make great content for future updates.

The dino attacks you described match up with dinosaurs (ankylosaurus, sauropods, pterosaurs) I have struggled to imagine challenges they would pose to players, so I added a couple of notes to my designs on those dinos to try out some attack ideas you came up with!
Item variety is a priority for the release and future updates, so keep an eye out.

Prior to ECCC, I never considered competitive vs. mode, but it was the most requested feature this weekend by a long shot. I plan on at least trying a prototype in the future.
The biggest enemy of players this weekend was the camera (at least until they learned how to navigate together as a team), so I plan on trying out some different ideas. Player markers are definitely in that list since they work for many other games.
I agree the carpet in the arcade needs work. I tried reworking it once before to a different arcade pattern (I modeled it after a pattern used in UK arcades in the eighties, but made it purple instead of bright blue). Because of some constraints with my tilemaps, I am having to repurpose the pattern, but here it is: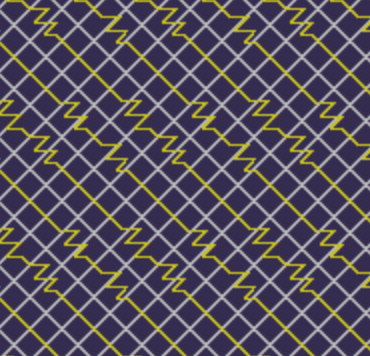 The fundamental problem with arcade carpet is it's all really, really busy! I do plan on working it over until I find something I like. I plan on at least trying to tone it down, like you suggested.
Consistency in the goals are a goal (pun not-intended, for once) in RoboVDino's design. I have a couple of refinements planned, since the arrow toward the goal was often hard to spot in the general carnage of 4-player mode.
Again, thank you for all of your great input and thank you so much for playing!

-Alex