WOOOOHOOOO!!!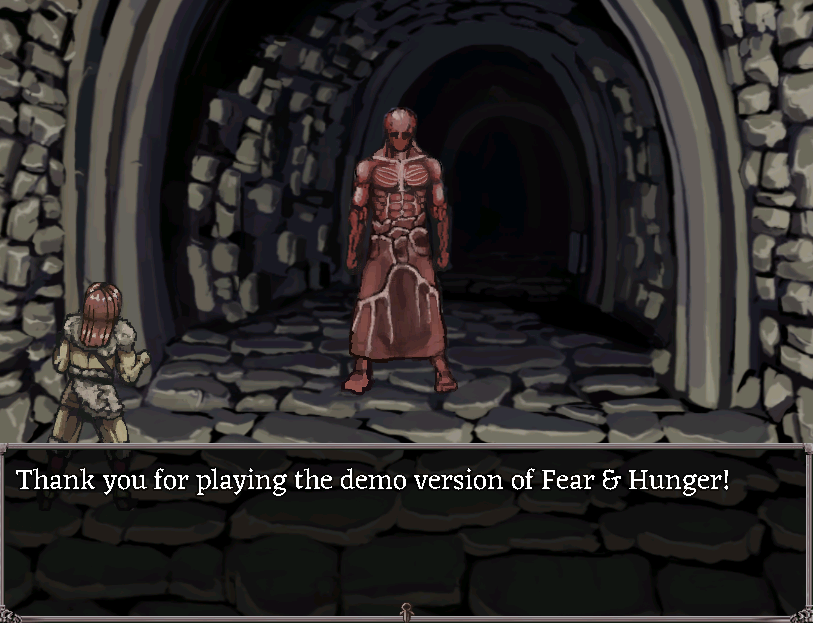 HUGE SPOILER ALERT! DON'T READ BELOW UNLESS YOU REALLY WANT TO.

Ok, I will have one more run a little bit later, but, for now, I'd like to express my emotions and make a few statements. Miro, if you would decide to read the things below, please note - I do not doubt your competence as a game developer, these are my personal opinions and they may be completely ignored.

First of all, Marksmanship skill for Outlander. Nerf it. Enemy Instakills ruin the difficuilty too much. Make them move really slow instead, like they do when they fall for the bear trap in addition to losing one of their limbs.

Second of all, the crude sword that is dropped by lizards. Its ridiculous damage is unhindered by accuracy, so there is no reason to not use it as the main weapon (apart from losing one of the arms). Add a minor accuracy penalty to it. As for the claymore that is given to you by the Pocketcat, i have no issue with it because of the dangerous bargain invonlved, so there is no need to change it in any way.
Third of all, I think this game needs a vendor of sort. The RNG here is just too goddamn unfair sometimes. I'd suggest the creation of an NPC on the 3'rd level (the prisons are too empty anyway) that can give you 1 needed item in exchange for 5 other. His item list excludes: opium powder (the trader near the altar of darkness sells it), cooked food, iron arrows (the trader near the altar sells it), books of any kind (we have Pocket Cat for that), whiskey (strong mind-restorative that is unfair to be given in such a way, ale is fine though), weapons of any kind, competent armor (trash armor is fine, but it must be allowed to be usable in trading), any kind of liquid that can be obtained by filling the glass vial (glass vials themselves should be allowed, though) and no explosive vials too.
Lastly, i'd like to talk about bosses. In the current version, they are too inclined to be DPS races - all you need to do is compile 4 party members and hack away at the torso. With a few exceptions, bosses here are too straightforward - hacking Salmonsnake's limbs off is not as reliable as an all-out attack on the torso (thanks to the overpowered crude sword), same for the cavemother, the head of the wizard is made only to give exposition and to be ran away from with no second encounter and the Crowmauler, oh the Crowmauler, was too disappointing for me.

Maybe that's my problem, but for a guy that is first introduced as this game's pyramidhead, he just didn't live up to my expectations: hacked off his arm and DPSed his torso till he fell. He should be causing the main character hysteria just by being in your sight, teleporting behind you if you ever start to outrun him like he was in the tattered note and, should one decide to face him in battle and not escaping on the first turn (that can easily fail), unleash myriad of debuffs coupled with weak AoE attack to give you slow and painfull death.

The solution for others? Make their torsos' defence much higher and decrease it for a certain percent for each limb hacked off.

For the Salmonsnake specifically - leave its limb attack spams as they are now, but introduce some sort of gimmick to give a player the ability to stop their actions without dismemberment. For example - now, destroying the eye seems to lower the accuracy of attacks for a bit, but it can be made a little bit more interesting - destroying the eye will actually make a battle harder, as opposed to saving, as in doing so you lose the ability to throw a red vial into it and to make it's limbs to do"tries to clean the eye" action for a few turns instead.
As for the Cavemother, the main issue that prevents the player from aproaching the battle carefully is "One Tooth Peck" (uh... sorry, can't remember the exact name) attack - instant limb loss is just too unfair. Make it use this attack only when its breasts are cut off - that way the player will be stimulated to act more strategically by having to pay attention to weak but tolerable cavegnomes.
Whew, that's a lot to read through. Despite the above, traversing the game was really fun. Can't wait to know more... What is the reason the new gods entered the dungeons of fear and hunger? Who is the God of Depth and is he in any way connected to the fifth member of the fellowship? Will Norasmus open up to us and tell what his role in this madness is? And finally, what is the purpose of the girl in this mess?
Man, i hate waiting) But, in the end, it will all be worth it...