Thank you for the quick response and possible solutions!
I've tried everything at this point. Battling with this for the second day...
I forgot to mention I'm using a canvas in World Space, so I must scale down either the font or the canvas. Scaling down the canvas works best. I've noticed Dynamic Pixels per Unit don't do anything, so just canvas.scaleX= scaleY=0.01 with huge canvas width and height.

The best setup I've found is:
*size = quality =19 (for my font 1st Sortie)
* .tff font size 500, Hinted Smooth
* filter mode Point
*using that Pixel Snap shader
I've pinpointed the problem. Horizontal alignment. I can't Center or Justify text or it gets blurry. Image below.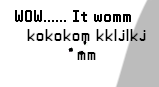 I should add that I don't use floating point at any values, line spacing = 1 etc. Object position, width and all other variables are integers.

I can now use small fonts, so I'm happy for that, Super Text Mesh is a really cool and helpful asset, but it's a shame I can't center the text. :(