#LOWREZJAM 2017 - VICTORY!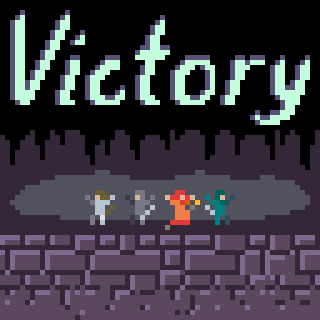 Yes, 64x64 ill-fated didn't reach first place, or even close during the #lowrezjam 2017. But from our point of view, we still had great success. Let's see why.
The primary point is that people outside the competition were enjoying the game and many were encouraging us to keep developing it. This by itself is the best prize we could get, the interest in seeing how this game could evolve. This means that our game has potential to become a really enjoyable complete game, and we are really excited about it!
From my personal point of view, by spending more time with the software, I can become more confident to push myself outside my comfort zone to create and try more. Last year I worked alone on 64x64 UFOs, as a short break from the development of The Outermost Bastion. I only gave myself 15 hours, out of the 2 weeks allocated, to spend on the jam. In that weekend, I managed to create a fully completed working game that reached the overall position of 241, out of 386 entries.
This year 64x64 ill-fated reached 45th out of 235 entries, a big jump forward on the rating, but that's not what I enjoyed most. I got most satisfaction from managing to create a beat 'em up in two weeks, when I believed it would be beyond my current capabilities. The game has 2 levels this time, a level up system, characters with different behaviours and stats, and monsters too. I even managed to set it up with local multiplayer, up to 4 people! The level design was a relatively small and simple challenge by itself, but I really enjoyed the opportunity to play around with parallax more extensively this year. Lysa's help with the art was precious, and gave the game a nice and enjoyable feeling to it, even when the players and monsters were only 8x8 pixel sprites.
The game wasn't perfect, it had some bugs, but the core mechanics are quite solid. That's another point that makes me proud of myself, even if others cannot see it. The basic core of the game is quite solid and easily expanded to include more things like new characters, monsters, levels and so on. Normally during a game jam there isn't time to make neat code, as long as it works, it is fine. It just needs to be a game that can pass the competition, not the long future. However, 64x64 ill-fated is already neatly packaged, making it a good starting point for quick future developments.
From Lysa Radvan's point of view:
"This is the first time I've ever done a game jam, and even though I only did the art for the game, I thought it was a pretty challenging, yet fun experience. I'm relatively new to the whole game art scene and thought this was an absolutely wonderful opportunity for me to develop my skill in another art medium. Simone's been asking me to do a jam with him for over a year now, and I'm glad I said yes for this one because it was a great excuse and motivational tool to get me to be creative. I wish I could have done more for Simone considering he did, in my opinion, all the hard work, but other work came first unfortunately. I'm hoping we can spend more time on this game later on to develop it further because, for one, its super fun to create something and actually be able to interact with it. And two, it's very satisfying seeing other people enjoy something you create, it gives you a purpose. I hope everyone that got to play the game enjoyed it, and even if you didn't, criticism is ALWAYS welcome and appreciated!
Many thanks to Simone for doing so much work and for being patient with me when I had other work priorities!"
To conclude, I really appreciate the collaboration with Lysa, we did a pretty good and solid job, and people are having fun with it. There are good chances that this game will see future developments, and the first bug fixed version was even uploaded the other day. The next goal is to create a new "director's cut" version. It will include all the features that the game was supposed to have during the jam, but we simply couldn't include due to priorities in our private lives, and time consumed from fixing nasty bugs.
If you would like to see more development on 64x64 ill-fated, please stay in touch with us and let us know what you think. This is the best help you can give us. Thank you!
Simone Tropea
Biim Games