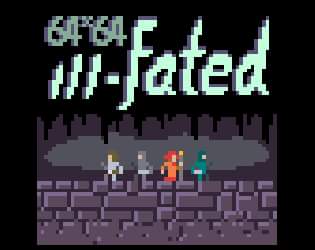 Hi guys, me and a friend are developing 64x64 ill-fated, a game for the #LOWREZJAM 2017 here on itch.io.
I have already created a devlog in the jam section but since I believe that the game is rising enough interest I want to share the progress here too. If at the end of the jam we'll have collect some fans of the game, we'll keep working on it.
Here is the link of the other post in the jam section:
https://itch.io/t/130595/64x64-ill-fated-multiplayer-fantasy-beat-em-up
And here for your convenience the link of the development videos in chronological order:
Video 1
Video 2
Video 3
Video 4
Video 5
What do you think? Are you interest in seeing how the project could end up to?
Let us know!
Thank you :-)