Hi, I'm Mocadium, and my game submission is, for now, named "Turtle Island".
"You are an engineer, who is a part of a big team whose task is to travel to a newly discovered island where the last living turtle of the near extinct species "Turtulus Raricus" was found. On your way, an unexpected tidal wave sinks your boat. You swim to safety, and end up on the island! Now its just you and your new turtle friend, your ONLY friend. Now with your expert engineering knowledge, and the resources the land can give you, you need to look after your new friend, for the sake of science!"
Now, since my idea for my game is really big, (Im being really adventurous this jam, so that I really learn a lot and push myself past my limits) I have kinda given myself a bit more time. Bear in mind all of my assets and everything in this jam will be my own, so it will be really time-consuming. So i gave myself a few extra days (dont hate me plz) to work on it.
Heres my update log so far:
Day 1:
Created the following sprites:
Player Run Animation
Player Idle Animation
Player Swim Animation
Turtle Run Animation
Turtle Idle Animation
Created world tileset:
Grass
Sand
Water
Grass To Sand
Sand To Water
Day 2:
Created the following sprites:
Trees
Shrubs
Chopper
Picker
Fisher
Miner
Planter
Created the following objects:
Player
Turtle
Camera
Input
Water
Solid Parent
Player Radius
GUI
Audio
"E" Icon
Bottom Bar
Added player movement
Added player swimming state
Added turtle movement
Added turtle wandering state
Added turtle following state
Added inputs to input object
Added basic gamepad compatibility
Added the ability to interact with turtle
Added wind sound
Tried to fix a bug with a ton of turtles crashing the game.
Fixed a bug where turtle would turn into the player.
Day 3:
Added the ability to change the turtles state by interacting
Added turtle wait state
Added machines
Added machine parent
Added trees
Added shrubs
Added tree randomization
Added shrub randomization
Added machine off state
Made chopper machine work
Added inventory object
Fixed some issues with button controls
Day 4:
Added pause object
Added pause menu
Added inventory slots
Fixed a ton of bugs with inventory toggling
Fixed bugs with player not swimming
Day 5:
Created the following sprites:
Stick
Berry
Stone
Fish
Leaf
Axe
Created the following objects:
Stick
Berry
Stone
Fish
Leaf
Axe
Workbench
Added item parent
Added pickup-able items
Madetrees drop sticks
Added stackable inventory
Added the ability to drop items
Added equipable items
Added the ability to chop down trees
Added damage bars for trees
Added the ability to chop down shrubs
Added the ability to pick berries from shrubs
Added damage bars for shrubs
Fixed gamepad input for inventory
Fixed overflowing inventory
Day 6:
Added workbench object
Redesigned the way GUI works
Added GUI for workbench
Changed the way damage bars work
Added checking inventory for workbench
Added Workbench Recipe
Added the following sounds:
Axe Chops
Tree Fall
Pickup Item
And here are a few screenshots as of today: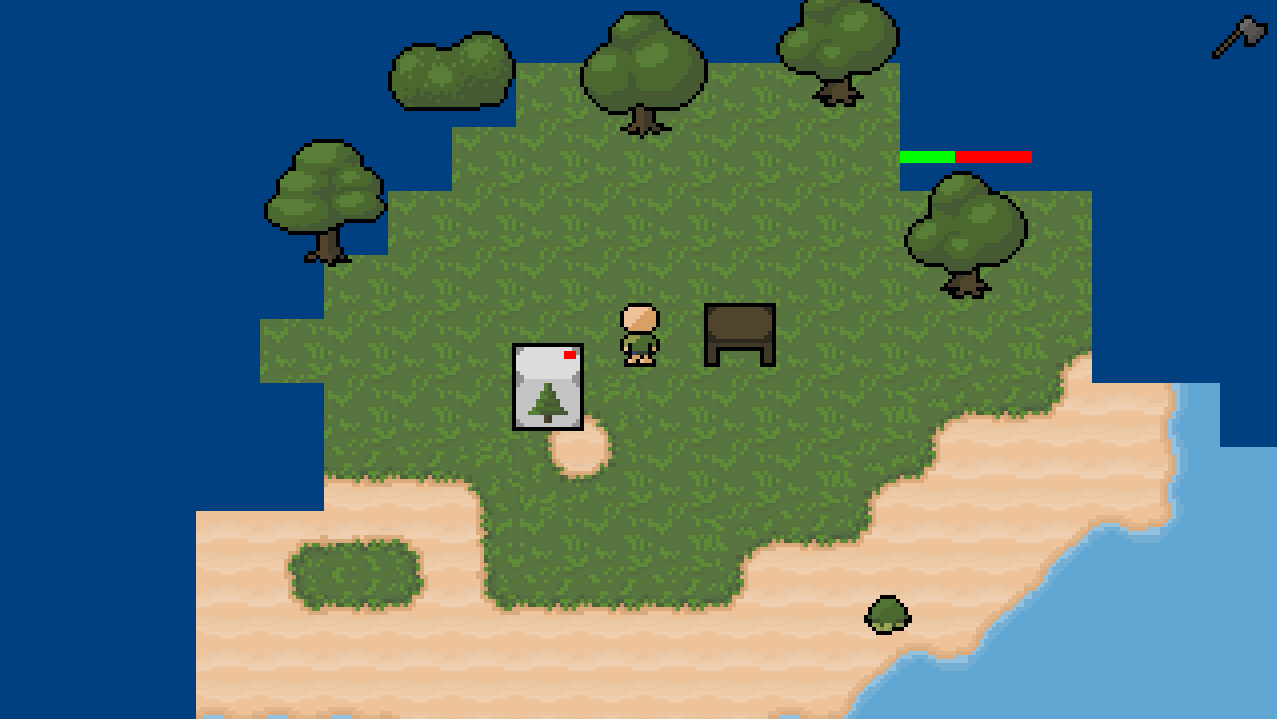 And with the new inventory open: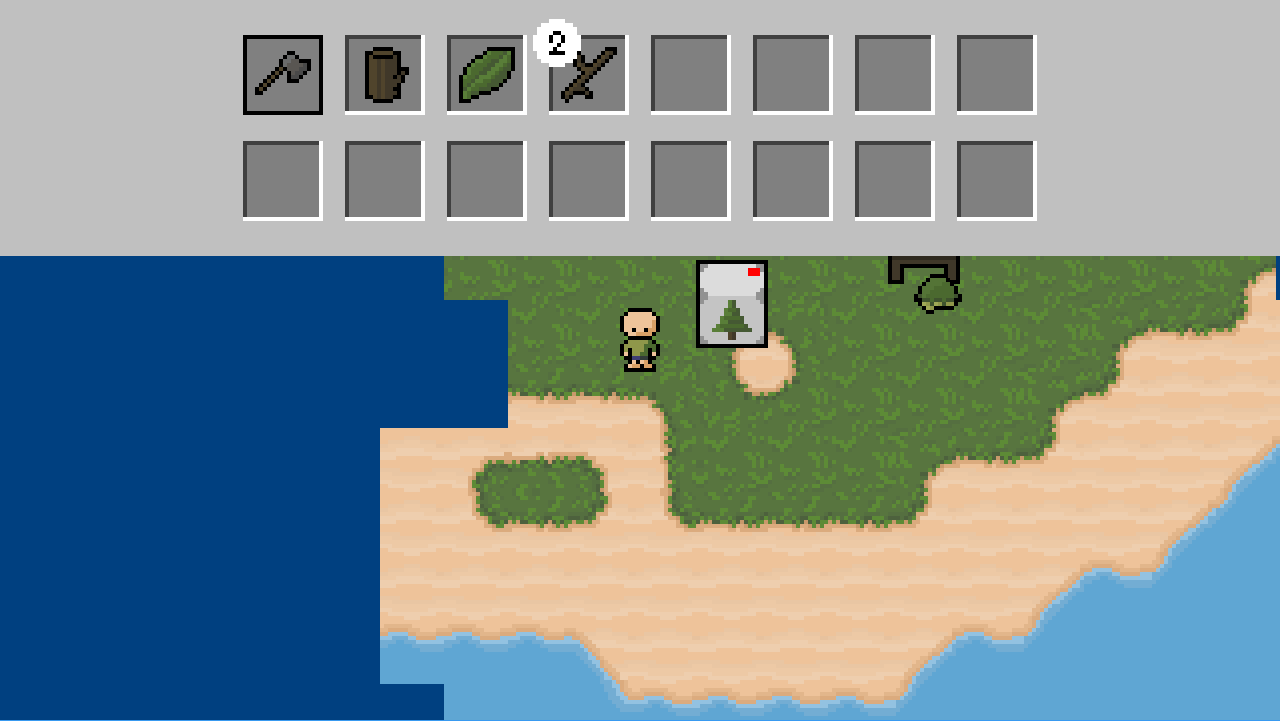 I hope you like it!
I will post more regularly as of today, so that the logs wont be as long! If you've made it this far, I'm so grateful!
Let me know what you think!