Hi everyone!
For this game jam I decided to use this game cartridge below...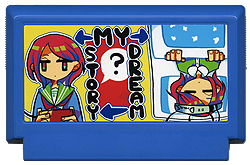 I originally was going to use a different case but the idea grew too large in scope so I wanted to make a game that was short and simple! I figured that I could make a quick game that was based on a singular dream, thus, I thought this case was appropriate.
The game engine I decided to use was PICO-8 which I had never used before and I am very glad that I picked it up! Unbeknownst to me, I purchased it from the bundle for racial justice and equality (so if you bought that bundle you also have PICO-8). It seems like an amazing engine to use for game jams or to develop prototypes for larger games.
I renamed the game [welcome to DreamSearch] because in the description of the game (which was in Japanese) the only English words in it were "DreamSearch" . Putting the premise through google translate gave me a direction to take the game and a lot of inspiration for the story :)
I have 2 videos documenting my work on the game that's available to watch on Youtube.
The first is more a general explanation of the game jam + a speedpaint. The second one is just a speedpaint (but also interpreting a specific scene from the game). Both of these can be found here!
Thank you very much for reading!