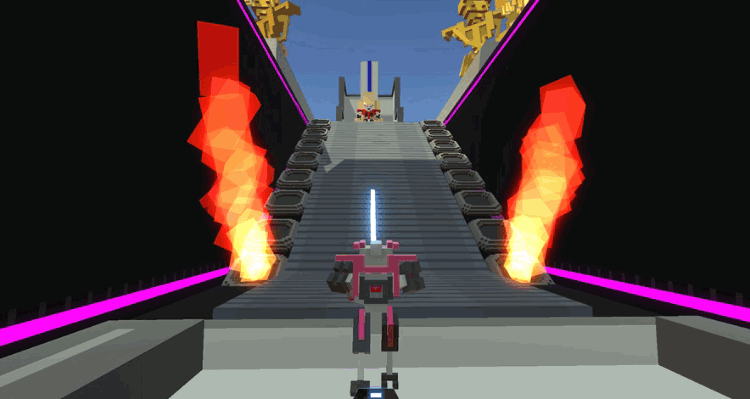 (gif from The Cats' Arenas by Deside)

WOW! In the two short weeks since we launched the Level Editor and Steam Workshop integration, FELLOW CREATIVE HUMANS created over 1,000 challenges and 1,000 endless levels!! Many even took the new enemy wait and move platform trigger elements from last Friday and made mind-blowing contraptions.
Note: If you'd like to subscribe to and play Steam Workshop levels and you purchased the game on itch.io, follow these instructions to redeem a Steam key from your itch purchase:
https://itch.io/t/67604/how-to...
In the Clone Drone Steam Workshop, you'll now find beautiful creations:




The Dark Knight by FrafMonster




Mini-Bow Challenge by SiggiSuffkopp (even has a YOUTUBE TRAILER!!)




Level Pack 1 by Random Commander

Unique gameplay challenges:




The Gauntlet by DarkEmperor118




Ring of Fire Challenge by VastLite

And some simply all-around fun, well-crafted challenges!




The Factory by Pudding (with an ENEMY KILLING MACHINE)




The Cats' Arenas by Deside




The Lava Temple by Silva (with a BOSS BATTLE!)

Wanna play some awesome new challenges and endless levels?
Having trouble choosing?! We collected some lists of challenges you can quickly subscribe to:
Wanna be a hero? Mine for gold in the NEW ITEMS list and provide kind words of encouragement and positive feedback to creators just getting started!!
And when you try levels, don't forget to:
Rate and comment on the challenges in the workshop! Let your fellow humans know what you liked about what they made!
Use Photo Mode to take beautiful screenshots! (capture and upload your screenshot by hitting F12 in Steam). You can then upload the screenshots and send the links to the creator! It's so fun to see people playing your creations!!
Made or found a level or challenge you're really excited about?
Share it here! I'd love to take a look!

What's next?!
We'll continue to improve the level editor going forward, including making some improvements in our next small update (especially since we're using it to make levels too, now!).

And we have some some pretttttt-ty exciting non-level-editor things in the works, so stay tuned!
Note: If you want a Steam key and you purchased the game on itch.io, follow these instructions to redeem a Steam key from your itch purchase: