Super Smash Monster's is a retro game of the genre Shoot Em Up 2D that prioritizes the high difficulty, pleasing players more #oldschool and #retro. Super Smash Monster's alternates moments of frantic and explosive pure action against creatures and bosses with moments of exploration in search of hidden items and solving small puzzles.


http://steamcommunity.com/sharedfiles/filedetails/?id=889424561

You control Alex, who after trying to play a tin video game, awakens in a strange place and receives information from a being named Pix, that he was trapped in the underworld of video games and that his sister would be trapped in the fortress of King Bit. Alex would have to face monsters of all sizes, deadly traps, all the guardians of King Bit and Bit himself, only then to save his sister and release the portal that will take him home.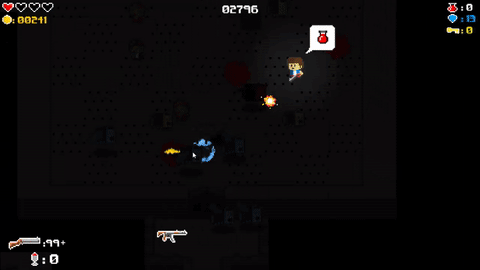 To face his enemies, Alex is given a shotgun, but can collect more powerful weapons such as machine guns, flamethrowers, missiles and laser weapons or buy from the mercenary Pix's shop. Scenarios are exploitable and the most dedicated players are rewarded with secret items and very useful Weapons.

• Different Weapons: The game counts on different weapons like machine guns, missiles and launches flames.
• Exploration: Explorable environments for acquiring secret items and achievements.
• Misc Enemies: Each level has different enemies that work differently, watch out for the traps.
• Challenge: Challenge yourself to unlock our different achievements in a constant and challenging difficulty!
• Lightweight and fluid: Works on any computer.
download : https://moraesstudio.itch.io/supersmashmonsters-beta